A new breed of chargers could revolutionize the way we use our smartphones, laptops, and tablets in about two years from now, if everything goes as planned at StoreDot, the Tel-Aviv start-up that created a lightning-fast charger that can fully replenish a phone's battery in 30 seconds.
You read that right. The video demonstration embedded below shows the StoreDot charger, reportedly based on "biological semiconductors, made from naturally occurring organic compounds called peptides," according to the Wall Street Journal.
The newspaper got the scoop on StoreDot's charger based on chains of amino acids to report that "the technology can be used, among other things, to speed charging times, the company says." Those other things are not detailed, though.
"The prototype charger is currently the size of a laptop charger, but the company says it has a parallel engineering effort aimed at reducing its size. The estimated cost will be twice that of an average phone charger, which is up to $30 [€21.87]. StoreDot says commercial production is planned for late 2016."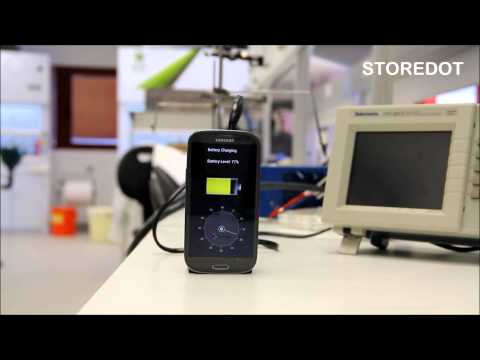 Play Video
It doesn't take a genius to realize that if a phone can be charged in 30 seconds (likely even less when the refined, final product ships), a MacBook or an iPad could also be charged much faster, say in a few minutes (relative to their big battery cells).
Imagine a world where every bar, restaurant, hotel room, beach resort, waiting room, and apartment comes pre-equipped with such a charger. With the world's governments looking to tackle proprietary connectors, the future looks extremely bright from a portability standpoint.
If everything goes as planned, the product would theoretically ship around the same time Apple deployed its iPhone 7. A year from that, the ITC and the EU will have Apple eliminating its Lightning connector to replace it with a more ubiquitous plug, like the micro-USB standard.
Another scenario is Apple buying these guys and developing a proprietary charging solution, giving iPhone the edge over other smartphone brands. However, considering that StoreDot chose a Samsung device to demo their awesome charger, who's to say they don't prefer a vendor powered by Google's Android operating system?
All in all, the StoreDot sounds like a revolution of the first order. When this kicks into full gear, wireless charging will probably be just as ubiquitous, so you can forget about ever carrying a cable with you in two years from now.