Apple is getting ready to unveil a brand new iPad and the first indication of that comes from a leaked mockup courtesy of Sonny Dickson and Jonathan from tldtoday, who put together a comprehensive video showing the differences between the current-generation model and the upcoming version.
The people in Cupertino could call this tablet any number of ways, from "the new iPad Air" and "iPad Air 2" to "iPad 6" or "the sixth generation iPad." That's probably the least important aspect for those anxiously waiting to see the device released.
If that's you, then you're probably here to learn about the new features. Jonathan explains in the video embedded below that Apple's new iPad will be thinner but not lighter than the current iPad Air.
The chassis measures 6 to 6.5 millimeters (0.23 to 0.25 inches) in thickness. The current model is 7 millimeters (0.28 inches) thick. A single row of speaker grills can be seen on each side of the Lightning connector, whereas the iPad Air has two on each side (for a total of four rows).
The volume buttons are placed a little closer to the top of the unit and they are slightly more recessed. Of course, this being a dummy iPad, it could well be a manufacturing defect. The dummy itself looks quite flawed and poorly assembled.
The Home button includes the touch ID with the metal ring around it. If the dummy case is accurate (i.e. based on actual blueprints from Apple), fingerprint recognition could finally be coming to the iPad.
The screen bezel is of the same size, and the overall design is virtually unchanged.
It isn't clear when Apple plans to debut this updated version of the tablet, but it's reasonable to assume that it will be deployed at the iPhone 6 event this fall. The Cupertino tech titan generally uses iPhone launch events to throw in additional iOS-related announcements, so autumn is the best time to see the iPad 6 launched.
Future buyers should expect the tablet to retail for exactly the same price as the iPad Air, with Apple offering attractive trade-ins to rid the market of old-generation devices and sell as many of the new models as possible with discounts.
Trade-in programs have become increasingly popular in recent years, with millions of customers worldwide selling their existing hardware back to Apple for credits that can be used towards the purchase of a newer-generation device.
Later this year Apple is also expected to introduce a 12-inch MacBook Air, a product that is said to be replacing the iPad Pro, which has been either shelved or delayed, according to reports from the supply chain.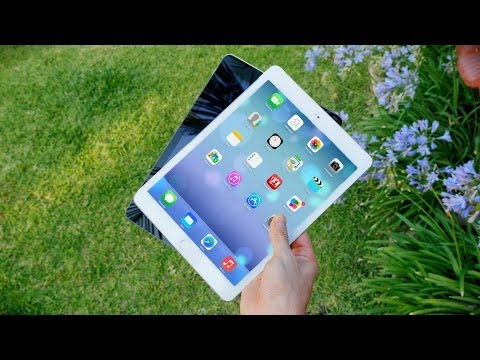 Play Video