A designer making a name for himself on YouTube with some awesome iOS concepts has uploaded a new mockup that takes a jab at the next Home screen from Apple. The Cupertino giant should seriously consider implementing this elegant concept.
As of late, Jonathan Ive has been in charge of Human Interfaces across all of Apple's products that have a screen and some underlying software. Ive is on a new mission to revamp the look and feel of Apple's products.
However, we're yet to see any of his new work in software. And iOS 7 begs to see some magic from the iconic British designer.
Perhaps our first glimpse of what the iOS 7 Home Screen will look like comes from Sentry, a designer who admits he can only think up these awesome designs, not code them as well.
Demoed above is a brilliant envisioning of quick-access settings right from the lock screen. No need to navigate to the actual Settings application just to toggle the nightly "Do Not Distrurb" ON or OFF.
Want some Wi-Fi? No problem, the ON/OFF switch is just a swipe and a tap away. Same goes for 3G, Location Services, AirPlane Mode, and pretty much anything you'd like to have handy in your lock screen.
Apple would do the customers a huge favor by turning this concept into reality. And Sentry himself probably wouldn't mind cashing in the big bucks on a 12-second animation.
Perhaps one tweak Apple could make to this ingenious concept is have the unlock slider remain accessible as the Home screen moves to the side. Other than that, the design is virtually flawless from where we stand.
Although there are countless similar concepts floating around YouTube, this is by far the best one yet.
Sentry, we're keeping our fingers crossed for this thing to become iOS 7's Home screen.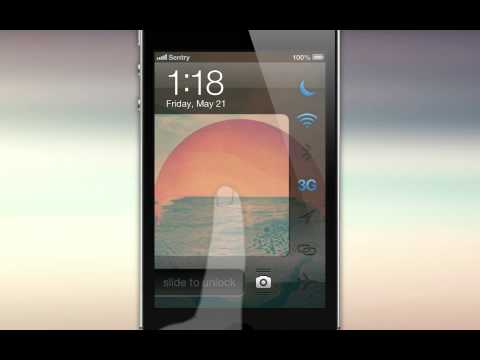 Play Video