The long due Wunderlist 3 is ready for primetime. Designer Jan Martin presented the brand new icon today
on dribbble
. The app will feature a redesigned interface for iOS, Mac, and all the other Operating systems it currently works on.
The old Wunderlist icon for iOS used to have a wood-textured frame, lined paper, and a shadowy bookmark draw on top of that. The new one keeps the elements but removes all the textures. It is a cleaner, flatter version of the old one and it looks like it is going to be the same for all platforms.
Designer Jan Martin, the art director of 6Wunderkinder, explains what the new icon represents: "everything we changed in the product: We removed unnecessary clutter without losing Wunderlist's soul. What's more, in order to create more consistency and simplify the brand elements, we said goodbye to the desktop icon. One icon that symbolizes Wunderlist across all platforms and devices, now and in the future. I'm looking forward to the release of Wunderlist 3 on Thursday, July 31st."
Wunderlist 3 is going to bring a redesigned interface. The app keeps the backgrounds and some of the elements of Wunderlist 2 but brings some new functionality.
The iPhone and iPad app will finally match the iOS 8 look and feel. Also, the little button on the lower right corner has been changed to show four items instead of three: Share, Publish, Sort, and More.
The new sharing panel has new transitions and you also have an option to set a list to "Do not Disturb." When you enable that function, you are no longer notified when somebody adds a comments, attaches a file or writes a comment in a task, or adds an item in a shared list.
The new notification icon has a small bell in the upper left corner that moves and then a notification bubble appears on it. There are also some changes related to the syncing menu. You still have the option of dragging a list in order to manually sync it, but you won't be getting the standard iOS spinning wheel, but a custom icon with a cloud on it.
Wunderlist 3 adds an option to publish your lists to an online service. After that, you can either share the public URL via Social Networks or copy the link and send it via email or iMessage. There are small visual changes in the Reminders menu. You can now see dots when your friends are typing a comment to your task, just like you see in the iMessages app.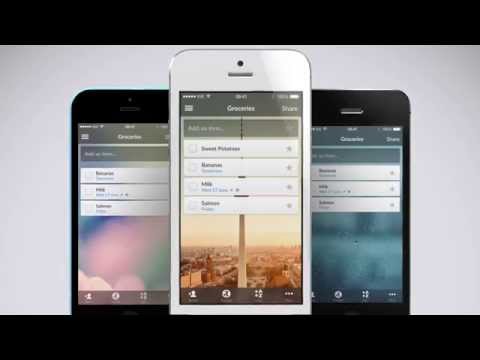 Play Video