Blizzard, after just finishing its weekend-long BlizzCon event, has confirmed quite a lot of interesting things about its current and upcoming games, chief among which being a newly confirmed fourth expansion for its massively popular World of Warcraft, called Mists of Pandaria, which brings the Pandaren race back to the Warcraft universe, raises the level cap to 90, and adds a variety of other new things.
Blizzard's World of Warcraft isn't the behemoth it once was, as even if its subscriber count is still pretty impressive, players are beginning to leave it in pursuit of other MMOs.
Now, with the upcoming release of Star Wars: The Old Republic, one of the biggest threats to WoW in recent years, Blizzard has decided to appeal to its fans with a brand new expansion for World of Warcraft, reintroducing the Pandaren race of warrior Panda bears, as well as a variety of player-requested features.
"Players have been asking to see the pandaren in World of Warcraft since the game's launch, and we're excited to finally be able to give them a proper re-introduction to Azeroth," said Mike Morhaime, CEO and cofounder of Blizzard Entertainment. "In addition to the new playable race and class, Mists of Pandaria contains a huge amount of new content, and we're looking forward to sharing more information about all of it at BlizzCon and beyond."
Players will now be able to guide Pandaren characters, fighting either for the Horde or the Alliance, choose the all-new Monk class, and explore new lands, while earning experience to reach the new level cap of 90.
Check out the main new features in the fourth WoW expansion below, as highlighted by Blizzard.
-New Playable Race -- Pandaren: Adventure through Azeroth as World of Warcraft's first neutral race and decide whether to side with the Alliance or the Horde.
-New Playable Class -- Monk: Unlock the secrets of pandaren martial arts and do battle as a damage dealer, healer, or tank.
-Level Cap Increased to 90:Learn potent new spells and abilities while exploring uncharted zones and taking on challenging new content.
-New Zones:Explore the lush Jade Forest, treacherous Kun-Lai Summit, and other exotic areas of Pandaria designed for high-level characters, and uncover the mystery of the Wandering Isle.
-Scenarios: Join up with some friends to achieve a common goal, such as mounting a defense against invading monsters, in a flexible new type of PvE challenge.
-Dungeon "Challenge" Modes: Master the ultimate five-player time trial to earn prestige rewards in a new dungeon mode that will put your resolve and coordination to the test.
-Pet Battles: Challenge other players' companion pets with your own collection in a new tactical mini-game, and find out who's king or queen of the pint-sized battlefield.
-New Talent System: Customize your character to suit your play style with the newly overhauled and improved talent system.
Mists of Pandaria hasn't received a concrete release date, however, so it's pretty safe to say that it's going to appear sometime in 2012.
Until then, check out the trailer and screenshots of the expansion for World of Warcraft below.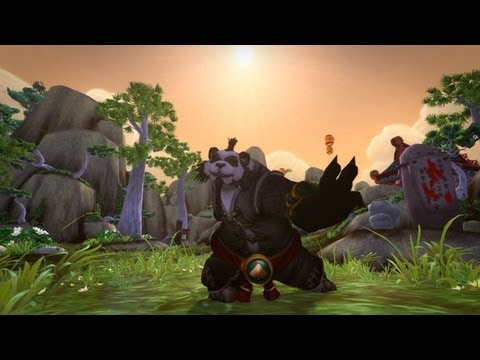 Play Video