One of the features that Windows Phone 8.1, the next version of Microsoft's mobile operating system, will arrive on devices with is a digital personal voice assistant called Cortana, just like the popular character in the Halo game series.
The feature has leaked online before a few times, and some more info on it is now available, courtesy of The Verge, which notes that Cortana will replace the built-in Bing search functionality in Windows Phone 8.
The voice-enabled personal assistant will work in a manner similar to Apple's Siri, but will be different in a number of ways. For example, it will allow users to set the manner in which they want it to call them.
Moreover, Cortana will be able to save information such as location data, behaviors, personal information, reminders, and contact information in a Notebook system. It will also be able to track flights and details from emails, so as to generate notifications.
The assistant will be based on data coming from services like such as Bing, Foursquare, and others, which will provide it with contextual awareness.
One thing that hasn't been confirmed as of now is whether the feature will indeed be called Cortana when Windows Phone 8.1 arrives. This is the name it features during the testing period, but Microsoft could call it differently when unveiling it in early April at the BUILD conference.
However, it seems carved in stone that Cortana will appear on the screen as a circular animated icon, something that has been rumored before, and was even showcased in a video that emerged online back in January.
WP7forum
, yet there's no telling on whether the personal assistant will indeed behave as showcased, so we'll take it with a grain of salt for the time being.
In the video, a user asks for directions to the nearest train station, and the voice assistant asks whether the user wants to catch the next train, supposedly in an attempt to narrow down the search, as phonearena notes.
Moreover, after finding the needed information, Cortana also asks whether to launch navigation immediately, or to postpone that, in order to deliver a reminder at a later moment.
This is not the first time that Cortana is said to have been designed with back and forth questioning capabilities, so as to have a better understanding of users' commands.
HERE Maps are also visible on the phone's screen, as this appears to be the service that will power the navigation capabilities of Windows Phone 8.1.
The general consensus regarding this personal assistant is that it will be included inside Windows Phone 8.1 right from the start, despite the fact that Microsoft is mum on the matter. Specifics should emerge in about one month from now, so stay tuned.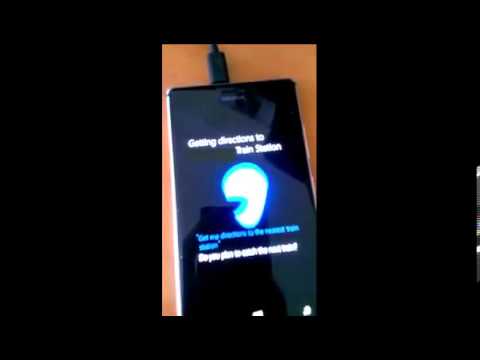 Play Video