Windows 8, Microsoft's latest bet in the OS industry, had a pretty tough year, pretty much because of the changes that Redmond made to the interface.
Basically, Windows 8's biggest challenge was to convince people that they could actually live without a Start button and adopt the Start screen, even though it was quite obvious that everybody wanted the old and traditional button back.
In the end, Microsoft admitted that it had made a mistake in Windows 8 and brought back the Start button with Windows 8.1, but it was already too late, as its new modern platform failed to improve its market share for several months in a row.
Windows 8 was the first OS version that brought us the Metro interface, a pretty controversial feature that's more appropriate for touch-capable devices, such as tablets, and that provides access to a completely new working environment featuring live tiles and apps available for download from the Windows Store.
It was this Metro interface that caused so many problems to Windows 8, with users and experts alike admitting that Microsoft should have kept it on tablets exclusively.
So let's have a look at what happened throughout the year with Windows 8, as these were the first full 12 months on the market for Microsoft's modern operating system.
Widespread criticism
This controversial Metro interface and the lack of a Start button are believed to be the main causes for Microsoft's never-ending problems when it comes to Windows 8, as the operating system has been heavily criticized by basically everyone all over the world on a regular basis.
A flop, a disaster, useless, confusing, ugly, ineffective, slow, expensive, worse than Vista. These are only some of the words that have been used to describe Windows 8, even though Microsoft has always stated that its product actually performed a lot better than its predecessors.
Plenty of videos like the one below reached the web in early 2013, only to show everyone that Windows 8 was a confusing operating system (hit the play button to see what it's all about):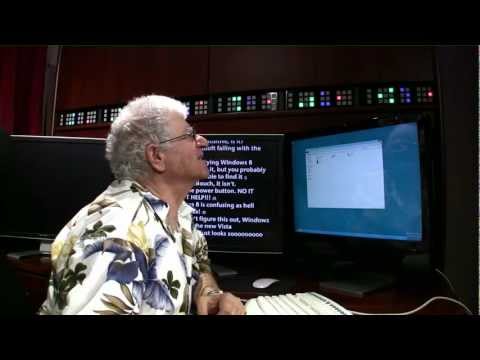 Play Video
At the same time, people who had the guts to try out the operating system turned to the web to express their frustrations towards Windows 8. Here are some of the comments posted by our readers in the first months of 2013:
"I've only been using a computer since 1974, so perhaps I'm not just very knowledgeable...but it seems to me when people have trouble figuring out how to turn off the computer or access a program then maybe, just maybe, the OS is not 'intuitive'."
"We need options. I don't understand what's so hard, just let us determine how we use OUR computers. Even with Start8 installed I evenly use the Start Menu and the Windows 8 Start Screen equally. I hardly doubt your start screen would go to waste just by adding the start button."
"I will never buy a PC with it, unless they fix it."
"Windows 8 takes the 'friendly' out of user-friendly. This is the final straw. I'm switching to Linux!"
"I loaded Win 8 on my laptop and regret it every time I turn it on. So much that I rarely use it. I have to Google how to turn the thing off."
"Remember the consumer is always right."
"Hey Microsoft, has it occurred to you that maybe the reason for the poor sales is not the OEM's. Maybe it's because you totally missed the boat on Windows 8. You need to keep something in mind, any Windows OS is good because we as customers say it is. NOT because you deem it to be. Stop telling us what we want and start listening to us telling you!"
Gabe Newell, the CEO of Valve, was one of those who criticized Windows 8 with every single occasion, calling the new OS "a giant sadness" and saying that it did nothing more than to hurt the PC business.
"The thing about Windows 8 wasn't just [Microsoft's] distribution. As somebody who participates in the overall PC ecosystem, it's totally great when faster wireless networks and standards come out, or when graphics get faster. Windows 8 was like this giant sadness. It just hurts everybody in the PC business," he said in an interview.
And, unfortunately for Microsoft, he didn't stop here. Newell went on to say that Windows 8 was unusable, pretty much because of all the changes made in the visual interface.
"Rather than everybody being all excited to go buy a new PC, buying new software to run on it, we've had a 20+ percent decline in PC sales — it's like 'holy cow that's not what the new generation of the operating system is supposed to do.' There's supposed to be a 40 percent uptake, not a 20 percent decline, so that's what really scares me. When I started using it I was like 'oh my god...' I find [Windows 8] unusable," Newell continued.
Redmond's reaction
Microsoft hasn't talked too much about Windows 8's sales performance and instead preferred to stay tight-lipped, while also issuing some vague statements to claim that its early uptake had been in line with the one recorded by Windows 7 after launch.
Here's what Windows Chief Marketing Officer and Chief Financial Officer Tami Reller said during the 11th Annual J.P. Morgan Tech Forum at CES 2013 in a very short statement:
"Windows 8 is a big, ambitious change," she noted. "[Sales] are roughly in line with where we would have been with Windows 7."
Microsoft initially said that it had sold approximately 60 million licenses in just three months on the market, while a couple of months later it went back to say that sales had reached 100 million units.
Steve Ballmer is one of the executives that defended Windows 8, saying that sales of the new OS went just as expected. (Photo credit: techday.com)
Since the operating system came under fire on several occasions, Redmond then refused to comment on its sales, choosing to keep everything secret and avoid any controversial statements.
Even though it was supposed to boost sales of the ever-collapsing PC market, it was pretty much obvious that Windows 8 had failed its purpose, as new PC buyers preferred to go for the same familiar Windows 7 operating system.
Sales of Windows 8 tablets remained low as well, with Microsoft receiving a major hit due to unsold Surface units. The company revealed earlier this year that it had been forced to come down to a $900 million (€670 million) write-down for the first Surface generation due to unsold units.
"We built a few more devices than we could sell," Microsoft's outgoing CEO Steve Ballmer was heard saying during an internal meeting with employees.
Windows 8 adoption
Windows 8 was officially launched in October 2012, so back in January, Microsoft's modern operating system was still a new product on the market.
The early uptake, on the other hand, was living proof that Windows 8 was very likely to perform well below expectations, with its market share increasing at a fairly slow pace.
According to figures provided by market researcher Net Applications, Windows 8 started the year with a market share of 2.26 percent and slowly increased it throughout the year with less than 1 percentage point every month.
It reached its highest market share in September, when 8.02 percent of computers were running it, but it started losing users soon after that due to the arrival of Windows 8.1.
StatCounter, on the other hand, shows that in 2013 Windows 8 was only the fifth most popular operating system, as it had reached a market share of 5.75 percent.
Of course, this is far from being an impressive market share for an operating system that has already been on the market for more than 12 months, but the best way to see its real performance is a quick comparison with the other OS versions.
Windows 7 holds a market share for the year of 52.48 percent, while Windows XP, the 12-year-old operating system that'll soon be discontinued, dropped to 21.31 percent.
Mac OS X comes third, just ahead of Windows 8, with 5.75 percent, while Windows Vista, which is said to be Microsoft's biggest flop in history, is sixth with 5.54 percent and very close to the modern OS.
Even though it's pretty clear that Windows 8 failed to meet expectations, Windows 8 still performed better than Linux, which is currently seen as the most affordable and effective replacement for Microsoft's flagship OS. Linux has a market share for 2013 of 1.16 percent, but figures are very likely to grow next year thanks to a mass migration from Windows XP to open source alternatives.
The Windows 8.1 mission
Microsoft admitted that it had made some mistakes in Windows 8 and decided to launch a major update in October to correct some of them and make the operating system a bit more user-friendly.
First of all, Windows 8.1 brought back the Start button but, contrary to what everyone expected, it doesn't launch a Start Menu. Instead, Microsoft adapted the Start button to get users to the Start screen and thus access the same touch-optimized menu a bit easier.
At the same time, the company implemented options to boot directly to desktop and skip the Start screen, which was one of the most requested features in Windows 8. Basically, this comes in handy to users who try to stick to the desktop and don't want to download and install Modern apps.
Since the Start Menu is still missing from the operating system, third-party apps specifically created for this purpose still experience a terrific success and will continue to do so until Microsoft brings back the original feature.
This is expected to happen in a future Windows 8.1 update or when the next Windows version goes live, as people familiar with the matter revealed that Microsoft was already working on some major improvements for the modern OS.
In addition to the Start Menu, which is very likely to come with a simple and clean design, Microsoft is also working to bring Modern apps right on the desktop and allow users to run them in their very own windows. This way, these apps would clearly be more successful, as users won't be forced to access the live tile interface to launch them.
Conclusion
Windows 8 is believed to be partially responsible for CEO Steve Ballmer's retirement, as some people familiar with the matter said that the company's board was very disappointed with the way the operating system performed in its first months on the market.
Microsoft's board is now trying to find a new CEO that would have what it takes to continue Redmond's adventure to long-term profitability.
But if there's one good thing that Windows 8 really deserves to be praised for, it's the way it forced Microsoft to listen to customer feedback and decide what to do next based on users' opinions.
Windows 8's initial uptake was so disappointing that Microsoft has decided to listen to the complaints it received and bring back the Start button and the option to boot directly to desktop in Windows 8.1. In fact, Microsoft itself has admitted that it really listened to what you had to say, so that's quite the main reason why the Start button is back in Windows 8.1.
Here's what the company said when it officially announced the return of the Start button:
"Windows 8.1 brings a variety of new features and improvements to Windows 8 that we think people will really enjoy. We listened to your feedback and are delivering many of the improvements you asked for."
In the end, it appears that Bill Gates, the man who actually founded the Redmond empire, was right when he said that "your most unhappy customers are your greatest source of learning." It's good to know that Microsoft is actually listening to its users.