The Temash accelerated processing unit has been on the minds of many people, even though it hasn't been formally revealed yet. Now, Advanced Micro Devices has offered another reason to think about it.
Temash is the third of the three APUs that AMD will officially release this year. While Richland will handle desktops and Kabini will go in notebooks, Temash will power tablets.
All three processors are expected to be officially introduced in June, during the Computex trade show in Taipei, Taiwan.
It bears noting, however, that a reference tablet based on it has already been previewed.
Perhaps that is why the Sunnyvale, California-based company is proving so forthcoming now. The video embedded below is the latest introduction into the world of Temash-based slates.
AMD bluntly says that its idea is for slates that overachieve. That is to say, tablets that are more powerful than their cohort.
"Brilliant 1080p displays" show lifelike photos and videos, and even DirectX 11 gaming is said to be supported.
We'll offer a word of caution here: DirectX 11 is supported, true, but the integrated GPUs in the processor can't really handle high-detail games. If Temash did, there would be no point in having the Richland and Kabini.
In fact, Temash is essentially a Kabini with some of its features cut out, so that it may stay in the 15-25W TDP range.
If its thermal design power was any higher, it would not be able to live without a fan, a prerequisite of slate platforms.
Fortunately, the performance of the Temash can be driven up by the Turbo Dock technology. Since it is present at the Mobile World Congress (MWC 2013), AMD has figured it may as well explain what the technology does: increase performance by around 40% when a keyboard dock is connected, in anticipation of content creation tasks. Go here for an in-depth view.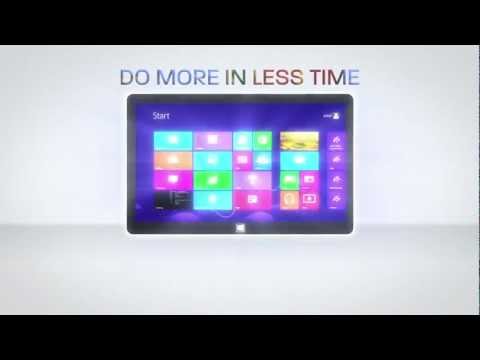 Play Video