Tragedy at the Daytona circuit as one of yesterday's NASCAR races saw a huge accident between several cars, which resulted in debris being flung over the catch fence into the grand stands, including a wheel, injuring of at least 30 fans, including a child.
NASCAR's Nationwide Series held a special race at the famous Daytona circuit yesterday, in the form of the Drive4COPD 300, and, right on its final lap, tragedy struck, as a few cars lost control and one of them hit the catch fence.
While that's not out of the ordinary, seeing as how crashes are a regular thing for NASCAR races, this one was quite brutal and saw lots of debris being flung over the special catch fence. Among the debris, besides metal shards, was a wheel from one of the racers.
This resulted in around 30 people injured, according to Jalopnik, including a child, all of whom are now receiving care at a nearby hospital.
You can check out above for the official video of the crash and below for a video made by a fan from the stands right near to where the tire landed. Be aware that the footage is quite violent.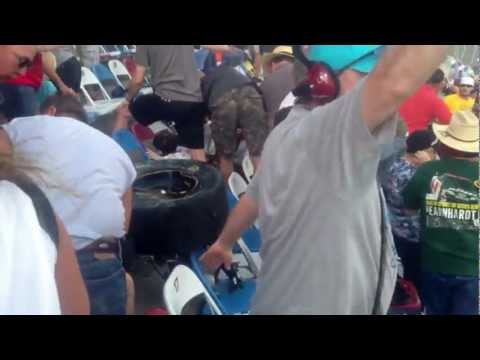 Play Video