Sony has officially revealed the special Uncharted: Fight for Fortune card game for the PlayStation Vita, confirming that the title will be a turn-based card experience that's deeply interconnected with the full-fledged Uncharted: Golden Abyss title for the handheld platform.
The Uncharted franchise made by Naughty Dog has delivered a variety of intense action experiences onto the PlayStation 3 platform and, thanks to Sony's Bend studio, the series also arrived on the PlayStation Vita through Uncharted: Gold Abyss.
Now, Bend has partnered with Outer Loop to create Uncharted: Fight for Fortune. While fans were certainly expecting another action experience, this new title is actual a turn-based card game with a heavy Uncharted theme.
Bend's Co-studio Director, Chris Reese, explained the core mechanics of the new game on the PS blog, so check out his description below.
"The core gameplay in Uncharted: Fight for Fortune involves creating a team of Faction cards featuring heroes, villains, and mercenaries from the Uncharted universe, then using that team to defeat your opponent while defending yourself from their attacks."
"Each Faction card can be equipped with powerful Resource and valuable Fortune cards, which enhance their stats and give them special abilities. Once you've selected and equipped a card, it's time to head into battle! During combat, attacks either reduce the health of opposing Faction cards or the health of your opponent. Defeating an opposing Faction card removes it from play, while reducing the health of your opponent to zero wins you the game."
In order to enable the interconnection between Fight for Fortune and Golden Abyss, a brand new patch has just been released for the existing game that allows the treasures found in the last game to augment the abilities of certain cards in the upcoming one.
Uncharted: Fight for Fortune will be released on December 4 for the PlayStation Vita and will cost just $4.99, although two different DLC packs will also be released at the same time.
Check out the game in action in the video below.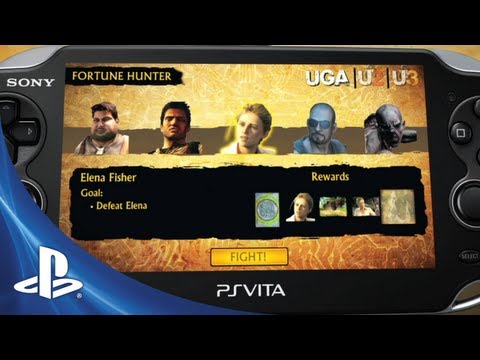 Play Video