There's finally some good news for Rainbow Six fans. Yes, the wait is finally over, as Ubisoft has taken the wrap off the next installment in the series called Rainbow Six: Siege.
If you expected a Rainbow Six: Patriots announcement, you will be disappointed, as the game has been canceled. In fact, it has been rebooted into what is now called Rainbow Six: Siege.
Officially introduced during E3 2014 by Ubisoft's CEO Yves Guillemot, Rainbow Six: Siege is the first title in the series after six years of wait.
The game has been confirmed to arrive in 2015 on PlayStation 4, Xbox One and PC. Just like Assassin's Creed Unity, this one won't be coming to PlayStation 3 or Xbox 360.
Ubisoft also announced that Rainbow Six: Siege should run on 1080p at 60fps. It's unclear whether this will be achieved on both consoles yet, but we expect Ubisoft to clarify this in the next couple of days.
Not many details are available right now on the game, but from what we have seen during the E3 presentation, it looks to feature the same co-op gameplay at its heart, as it pits two teams of five players against one another.
One scenario presented during Ubisoft's press conference requires players to save a hostage from the terrorist team until the clock runs out. You will have a preparation time where you can scout the site and find the best approach possible before actually bursting in guns ablaze.
Either teams can win but, as expected, they have different objectives and while terrorists can win by either eliminating all of the other team's players or by keeping the hostage until the clock runs out; the team trying to rescue the hostage will have to actually extract him/her from that location.
There's a lot of gameplay shown in the footage Ubisoft presented at E3 and most of it looks pretty great for FPS players.
Some of the things you will be able to do during the hostage rescue operation is blow up walls to get to lower levels or the room across, revive the hostage in case he/she gets injured during the fire exchange or shoot through walls and the holes in the walls.
That's about it for the moment, but we're expecting Ubisoft to share more details on the Rainbow Six: Siege in the days to come, so stay tuned for more on this one.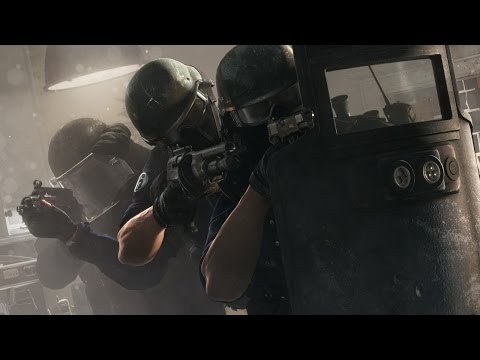 Play Video