A senate judiciary committee has come together to discuss the issue of gun sales regulations, as the Obama administration is trying to push new gun laws through Congress.
Congresswoman Gabrielle Giffords advocated putting an end to violence during yesterday's gun control hearing. Giffords was shot in the head during an incident in Tucson, in 2011.
Giffords was injured in an attack in which six people were killed and other 13 were wounded. She suffered partial blindness and paralysis in her right arm, and still has difficulty walking and speaking.
"Speaking is difficult. But I need to say something important. Violence is a big problem. Too many children are dying, too many children.
"We must do something. It will be hard, but the time is now - you must act. Be bold. Be courageous. Americans are counting on you," she is quoted by the Guardian saying. A video of her speech has been posted below this article.
Her husband, retired astronaut Mark Kelly, explained that he and his wife were gun owners before the shooting. Kelly points out that Jared Lee Loughner, the Tucson gunman, was mentally ill and should never have been allowed to purchase a weapon.
He adds that Arizona records were not updated with mental illness history records, and a check revealed that 121,000 case were not recorded.
"That is a fact. My wife would not have been sitting in that seat today if we had had stronger background checks," Kelly adds.
NRA executive vice-president Wayne LaPierre answered questions on the organization's opposition towards stricter background checks before gun sales.
"Law-abiding gun owners will not accept blame for the acts of violent or deranged criminals," he responds. He also suggests protecting children by upping security in schools.
The issue of extending checks to gun show purchases has also been discussed, with the NRA expressing their disapproval.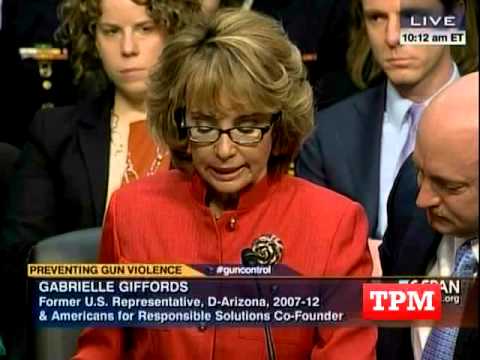 Play Video