Over the weekend, a couple of videos shot from a fan's perspective at one of Tim McGraw's most recent concerts revealed an incident that had taken place when the singer was swamped by overeager fans while performing "Truck Yeah," and he slapped one of the women who had grabbed his leg.
The show took place at the Aaron's Amphitheatre at Lakewood in Atlanta, and had gone off without a glitch until the moment caught on camera. Based on reports online and the evidence provided by the videos, the woman had grabbed Tim's leg and was trying to pull him down, towards her.
She could have also ripped the singer's jeans, but that's yet to be determined. What's certain is that Tim turned to her and slapped her so hard across the face that you can actually see her head being thrown back from the impact in the second video below.
Atlanta PD told the press that they had received no complaints about the incident from the woman, but that they had already launched an investigation to determine what exactly went down. Nonetheless, they said, it looked as if McGraw had acted in self-defense.
That's exactly what the singer tells ET Canada in a new interview, which also touches on this topic. After the videos emerged online, there was a lot of talk about how he shouldn't have hit the woman no matter what because no man should ever get physical with the ladies.
Clearly, he doesn't feel that way. Neither does he intend to apologize or even to pretend like he is because, he explains, he did nothing wrong: this sort of things does tend to happen, as regrettable as that might be. Now that this happened, there's no sense in dwelling on it.
"Sometimes things can lose context and perspective. I reacted in an instinctive, defensive way from my perspective of what was going on. I think it was an unfortunate situation I think all the way around," the Grammy-winning singer says.
"But it happened, it happened in a split second, it was pure instinctive reaction, I think you just got to move on. It is one of those things that happen, nobody feels good about it, but there's nothing that could be done about it. You are in that position, you are out there, you are vulnerable, things happen and sometimes you react. There's nothing to be said about it," McGraw continues.
As of now, the woman he slapped is yet to file a police complaint or address the incident publicly. We assume she understood she should have never gotten this touchy-feely with the star while he was performing (or under any circumstance, for that matter), and she accepts that the slap was in self-defense.
Play Video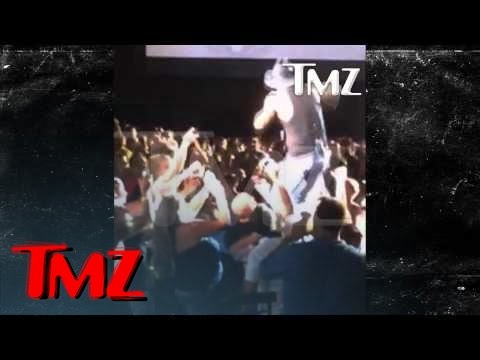 Play Video