We've reached a point where Apple is downright forced to launch a bigger iPhone, or else. In an industry where size apparently matters more than you'd like to think, the Cupertino giant is reportedly poised to cede to demand and unleash not one, but two larger iPhones this year.
One of the rumored iPhones set to launch in 2014 is said to have a considerably larger, 5.5-inch display. Many artists have tried to envision what this handset will look like, but all mockups released so far seem to pale in the face of SCAVids' new concept video, which you'll find attached below.
Arguably the most breathtaking envisioning of a next-gen iPhone, the "iPhone 6 Trailer concept," is as much appealing as it is impossible with current technologies and manufacturing costs. Nevertheless, if Apple somehow managed to pull this off, pretty much everyone on the planet would want to own one.
SCAVids tosses around some equally surreal specs, like a dual-display assembly for a gaming experience similar to that offered by the Nintendo DS, but also for a wide variety of other applications and work-related scenarios. This too would make sense from a user standpoint, but it's probably an idea years ahead of its time (at least in this particular implementation).
The model is ultra-thin, something Apple and its Asian partners could theoretically manage with their advanced assembly lines, but probably not without some hurdles. Let's not forget that even the iPhone 5 with its relatively simple mix of materials gave Foxconn a lot of headaches.
To achieve this exact appearance, Apple would likely have to finally begin using that Liquidmetal license it bought years ago. The material has a variety of high-strength properties, but also a unique look and feel. Some have described it as a combination between glass and steel.
It's even said that manufacturers would be able to "tattoo" the metal to tuck the paint (and various markings) underneath its glassy surface. If there's one thing that jumps at you in this concept video, it's this exact characteristic of the phone's enclosure. Sadly, it's just a concept for the time being.
Without further ado, we invite you to glance at this awesome rendition of the next-generation iPhone 6 in the video embedded just below the fold. While it's certainly not an impossible design, chances are Apple will not ship this for at least a couple of years.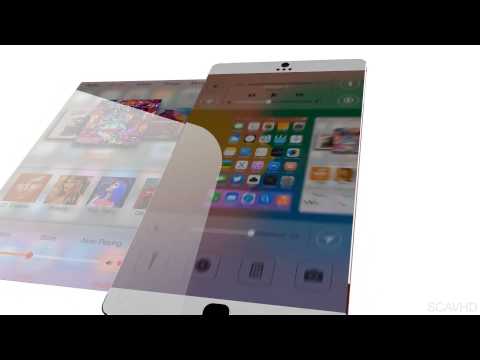 Play Video