The Elder Scrolls Online has finally received a release date, as the long awaited MMORPG will hit the PC and Mac platforms on April 4, 2014, while on the PS4 and Xbox One it will debut in June.
The Elder Scrolls Online promises to finally take the sprawling Elder Scrolls universe created by Bethesda many years ago and deliver a multiplayer experience that further explores its rich history and mechanics.
After confirming last year that The Elder Scrolls Online was in development at its Zenimax Online Studios group, Bethesda has now shared a new trailer and a release date for the upcoming game.
The Elder Scrolls Online will debut for PC and Mac on April 4, 2014, and will reach the PS4 and Xbox One next-gen consoles in June of 2014.
According to Game Director Matt Firor, the team has completed all major systems and has just started fixing bugs and responding to user feedback.
"Game development is coming along very well. We completed major systems development, and are focusing on making this the Elder Scrolls game you expect: polishing the hundreds and hundreds of hours of content, making combat even more fun and responsive, fixing quest issues, and much, much more," he said on the official website.
He also confirmed that over 4 million people have signed up for the beta stage and that, in order to make sure that the game will handle the expected rush of users at launch, a staggered release has been chosen.
"Worldwide demand for The Elder Scrolls Online is extraordinarily high. This means we need to do a staggered rollout of the different versions of the game to spread out the initial service load and ensure an enjoyable, smooth gameplay experience. It is not only a game we are launching – it is a large online service as well, and our number one priority is to ensure a trouble-free, stable rollout for everyone."
As a result, the game will launch first on PC and Mac, and then on the PS4 and Xbox One next-gen consoles.
Until then, check out the new trailer, War in Cyrodiil, below.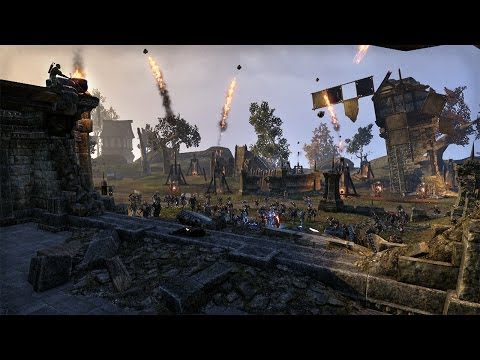 Play Video