OpenMW, an open source implementation of The Elder Scrolls 3: Morrowind game engine and functionality, has just reached version 0.29.0.
OpenMW, or OpenMorrowind, is an ambitious project that aims to bring one of best role-playing games ever created into the open source world, but with some very important modifications and improvements.
The developers didn't want to just make a simple port of the game along with all the bugs and problems that still accompanied the original title. It would have been a lot easier to do it and we would have started to play a full version of OpenMW a long time ago.
Even if development seems to advance very slowly, with small increments to the versions of the game, the truth is that a lot of new features and important fixes are implemented in each and every one of these releases. It goes to show that game development is a difficult enterprise and it takes a lot of dedication.
"This release includes the first implementation of the Save/Load feature, which catapults OpenMW closer to being completely playable. Please bear in mind that the save file format is not yet finalized and we cannot guarantee forward compatibility of save files until OpenMW 1.0," reads the announcement on the official website.
A number of important changes have been added to the GUI and to the gameplay. For example, knockdown, melee blocking, area magic, combat and combat AI for creatures, slow fall magic effect, blood particles, inventory equip scripts, leveled creatures, and missing journal backend features have been added.
Also, some very important fixes have been implemented, for excess VRAM usage, for an AI problem that was related to an FPS drop, for werewolves, for footsteps, for a bug that was allowing the player to get unlimited gold, for a bug that was causing the player to only receive 1 gold when picking up stacks of gold, and more.
A complete list of changes and new features can be found in the official announcement. Users must legally own and install the game before they can use OpenMW – as it is intended – to play Morrowind. Download OpenMW 0.29.0 right now from Softpedia.
OpenMW aims to be a full-featured reimplementation of the Morrowind engine capable to work natively on all supported platforms and to support all existing content, including Tribunal, Bloodmoon, and all user-created mods.
Keep in mind that this is not a stable version and bugs might still appear.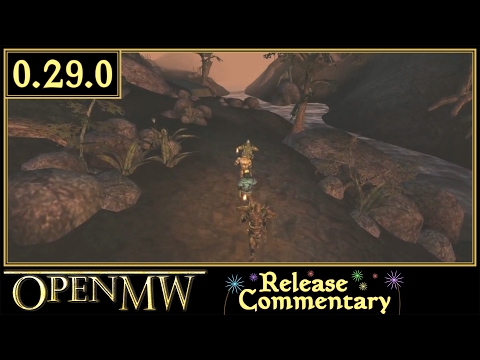 Play Video