Steve Ballmer, former Microsoft CEO and currently the company's number one individual shareholder, has announced his decision to step down as board member because he doesn't have the time to serve the software giant as he's now involved in other projects, including his own NBA team.
In his retirement letter, Ballmer obviously puts the emphasis on his love for Microsoft, explaining that he fully supports the new CEO Satya Nadella and the new direction of the company towards a mobile-first, cloud-first world.
Less involved, but still number one shareholder
Even though Ballmer steps down from the board, he will keep his Microsoft stock, but he'll be less involved in what the Redmond-based firm is trying to do in order to ensure long-term profitability.
"I had not spent any time really contemplating my post-Microsoft life until my last day with the company. In the six months since leaving, I have become very busy. I see a combination of the Clippers, civic contribution, teaching and study taking a lot of time," Ballmer explains.
"I have confidence in our approach of mobile-first, cloud-first, and in our primary innovation emphasis on platforms and productivity and the building of capability in devices and services as core business drivers. I hold more Microsoft shares than anyone other than index funds and love the mix of profits, investments and dividends returned in our stock. I expect to continue holding that position for the foreseeable future."
Satya Nadella: Ballmer will be missed
Satya Nadella explains in a response to Steve Ballmer that his leadership is going to be missed, but everyone within the company fully supports his decision to retire.
"Under your leadership, we created an incredible foundation that we continue to build on — and Microsoft will thrive in the mobile-first, cloud-first world. While your insights and leadership will be greatly missed as part of the board, I understand and support your decision," Nadella says.
Ballmer now living out his childhood dream
Steve Ballmer has recently purchased his own NBA basketball team, spending no less than $2 billion (1.5 billion euro) to make one of his childhood dreams come true. Ballmer spent more than 30 years within the company, taking over the leadership seat from Bill Gates in 2000 and remaining Redmond's top chief for a total of 13 years.
Nobody can deny that Steve Ballmer was, is, and will remain a true Microsoftie and it's no secret that he expressed his love for the software giant on pretty much every single occasion. He was criticized by some, but applauded by many, and although he will only remain a Microsoft shareholder, there's no doubt that we're going to miss him in the technology industry.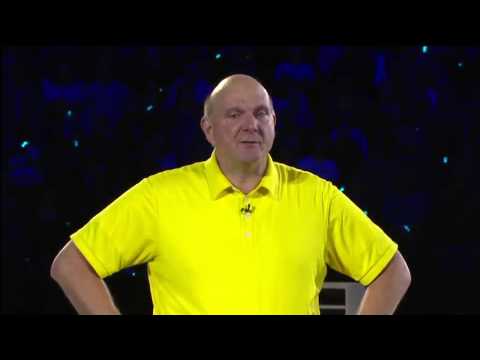 Play Video