Today, Sony Mobile made official the long expected Xperia Z smartphone at the 2013 Consumer Electronics Show in Las Vegas.
This is the first handset in the company's offering to arrive on shelves with a 5" Full HD 1080p Reality Display, while also packing a Snapdragon S4 Pro quad-core processor inside.
Previously spotted online under the codename of Yuga, the phone features all the hardware specs that it has been previously rumored to include.
It will land on shelves with a 13-megapixel photo snapper on the back, as well as with support for 4G LTE networks, and should become available for purchase in various markets around the world before the end of this quarter.
Sony's new flagship smartphone sports 2GB of RAM inside, a 1080p screen powered by Mobile BRAVIA Engine 2, world's first image sensor with HDR (High Dynamic Range) video for smartphones, along with a Battery STAMINA Mode to extend the battery standby time.
The handset also features NFC connectivity inside, a unique OmniBalance design, is only 7.9mm thick, and sports tempered glass and anti-shatter film on the front and back, while also being both dust and water resistant (IP55 and IP57).
"With Xperia Z, we are bringing over half a century of innovation in TV, imaging, music, film and gaming to create a superphone experience that truly stands out," said Kuni Suzuki, president and CEO, at Sony Mobile Communications.
"With great specifications, Sony's media applications, One-touch functions and outstanding battery life, Xperia Z is well positioned for leadership in the smartphone market. By putting smartphones at the heart of our strategy, Sony is enabling people to create, enjoy and share content and experiences like never before."
The smartphone was also loaded with a variety of applications from the company, such as the "WALKMAN," Album and Movies apps, meant to provide users with great entertainment capabilities on the go. It will also sport Small Apps, which are applications designed to run on top of other software.
The handset runs under Google's Android 4.1 Jelly Bean operating system, but it will be upgraded to Android 4.2 soon after launch.
Sony also announced that a design variant of Xperia Z would arrive on shelves in the first quarter of the year as Xperia ZL (Canada will receive it), delivering the same entertainment experience "but in a smaller form factor." Xperia ZL is not waterproof either.
Sony Xperia Z is set to become available for purchase in black, purple, and white color flavors, while the Xperia ZL will be released in black, white, and red.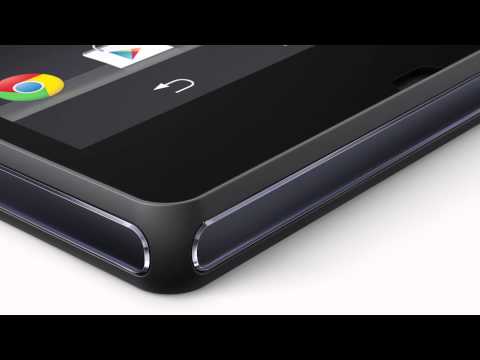 Play Video