A project launched by My Shelter Foundation, a non-governmental organization from the Philippines aims to lighten the homes of financially-challenged people in an unconventional, eco-friendly manner.
The organization has decided to implement a risk-free technology that currently takes 25,000 homes out of the dark, the Guardian informs.
The idea is quite simple. The entire system depends on solar-powered "bulbs" made from old plastic bottles. Common soda bottles are filled with filtered water and some bleach and then they are properly sealed to avoid any leaks. Finally, these items are installed into the holes of the roof manufactured from corrugated iron.
The method is efficient, since it provides the equivalent of 55W of sunlight to lighten the household during the day.
Apart from the fact that the technology is entirely earth-friendly, it is also cost-efficient and safe. It comes as a better alternative to candles used by poor local people, that often generate devastating fires.
Since most of the family members have to settle for less than $2 (€1.52 ) a day, electricity is often considered a luxury.
Under these circumstances, the ingenious bulbs help them save some money. Officials from the Liter of Light project are pleased with the results obtained so far and want to expand their strategy to lighten up to 12 million households in the Philippines.
The project started six months ago is also creating jobs, since workers are needed to install the earth-friendly bulbs into the metal sheet placed on rooftops.
At first, officials have fired only one person to place 1,000 bottle-based bulbs but they estimate that the contribution of other 20 people will be needed to get the job done.
Even though this initiative is rather new, the lightning system has been first implemented almost a decade ago, in Brazil, by Alfredo Moser. His invention has been modified by MIT students, to fit the needs of poor local people from the Philippines.
The developers are thrilled about their project and say it will help curb the amount of greenhouse gas emissions reaching the atmosphere, while helping poor people pay less for the energy they consume on a daily basis.
"The challenge is how can the developing world come up with its own model to limit emissions of carbon- we can't afford to buy imported, patented or manufactured solutions from the developed world and can't afford to wait until they become affordable," explained Ilac Diaz from My Shelter Foundation.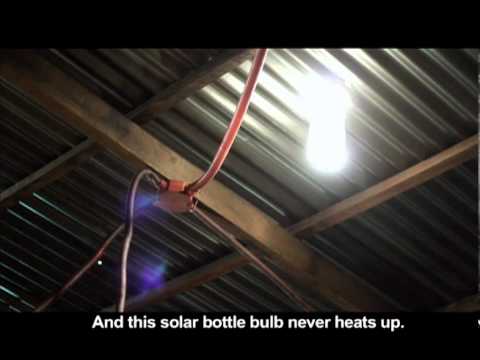 Play Video