The Elder Scrolls V: Skyrim has just received a multiplayer mode, although it's not anything official from Bethesda, as an intrepid player released a special Skyrim Online mod for the PC edition of the game.
Skyrim was released last month and, since then, has delighted millions of players from all around the world with its great, albeit single-player-only experience.
Since before its launch, however, lots of Elder Scrolls fans were asking Bethesda to consider adding a multiplayer mode, or at least a cooperative one, to the Skyrim experience, so that they can explore its virtual world with one or more friends.
Bethesda did comment on this possible feature, but said that the development team is currently focused just on creating huge and immersive single-player experiences.
Thankfully, the PC edition of Skyrim can now boast a multiplayer mode, through a special Skyrim Online mod, albeit it's still very early in development and the results aren't that spectacular.
"Skyrim Online turns your single experience into an online experience, play with your friends, chat with people worldwide, trade with other players," wrote the mod's developer on its Skyrim Nexus page.
The mod is still in alpha and, as you can see in the video below, via Kotaku, while players can view their actual avatars in their own customized gear, others appear just as an almost naked character with clunky animations. They can, however, talk with each other and interact through a special chat window similar to the one in World of Warcraft.
Installing the mod isn't that tricky, but its developer warns people to back up their files because some overwriting may happen. For a full list of instructions, you can head on over to the Skyrim Nexus page of this mod.
In the meantime, you can check out a video below to see it in action, with a player showcasing this Skyrim Online experience.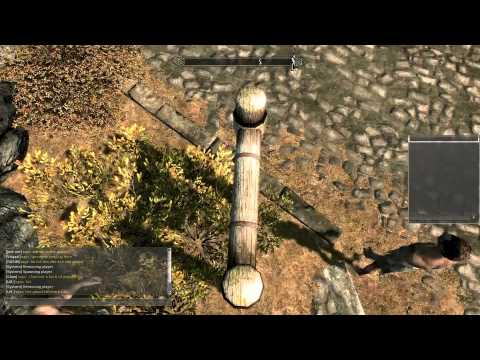 Play Video