One might have cause to argue that mid-range cases shouldn't bother with LED-colored fans or other aesthetic enhancements, but Sharkoon does not agree. In fact, the company has launched two models with such assets.
The two new desktop enclosures are called VS3-S Standard ATX Midi-Tower and VS3-V Value ATX Midi-Tower.
Both come in several color options for the fans and the front detailing, and their prices even depend on those traits.
We'll get to that later though. For now, we may as well list the specifications of the cases.
They are more or less the same really, with the exception that the VS3-V Value ATX Midi-Tower has two USB 3.0 ports on the front panel, while the VS3-V Standard ATX Midi-Tower only gets USB 2.0
There still is an alternative USB2.0 port though, for compatibility with older motherboards.
That said, the VS3, either version, has the standard set of internal 3.5-inch drive bays, though they allow for adjustments.
Normally, a pair of 3.5-inch hard disk drives (HDD) can be installed, along with a 2.5-inch SSD (solid-state drive) or small HDD.
Nevertheless, should it come to it, using two 2.5-inch drives and one 3.5-inch unit will be possible as well.
What is most intriguing is that the drives can be installed both horizontally and vertically. The latter option is there to permit longer graphics cards to be installed (maximum length of 35 cm / 13.77 inches).
Furthermore, the depth of the case is such that the maximum height of CPU coolers is 15.5 cm / 6.10 inches.
There is also an externally accessible 3.5-inch bay, in addition to the three 5.25-inch ones. It can hold a card reader, fan controller, USB hub, etc. As for the cooling, the mesh front panel allows a LED fan to shine through.
Sharkoon VS3-S Standard ATX Midi-Tower colored chrome will sell for 24.99 Euro / $24.99, while the green and red ones have a price of 22.99 Euro /$22.99.
The VS3-V Value ATX Midi-Tower has a similarly differentiated scheme: the chrome case bears a MSRP (manufacturer suggested retail price) of 29.99 Euro / $29.99, while the green and red ones sell for 26.99 Euro / $26.99.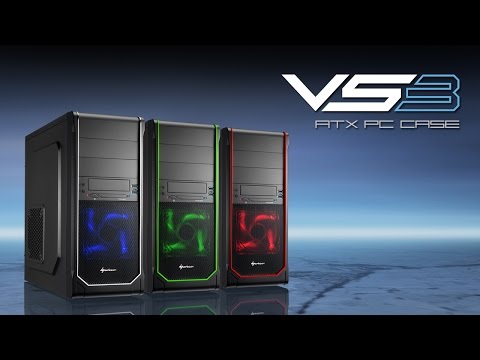 Play Video