A century ago, going to the South Pole was a heroic attempt and a historic success. Now though, anyone can go. Literally, you can go to the South Pole right now and see what it's like at the historic location and around the permanent base established there thanks to Google Street View.
The "street" in Street View lost its meaning a long time ago and the latest imagery only serves to enforce that. Google already had some panoramic 360 degree images from the Arctic, but those were just in a few locations near the ocean shore.
This time around, Google went all the way to the South Pole to grab some snapshots and stopped at several historic locations along the way.
"Today we're bringing you additional panoramic imagery of historic Antarctic locations that you can view from the comfort of your homes. We'll be posting this special collection to our World Wonders site, where you can learn more about the history of South Pole exploration," Google wrote.
"With the help of the Polar Geospatial Center at the University of Minnesota and the New Zealand Antarctic Heritage Trust, we've added 360-imagery of many important spots, inside and out, such as the South Pole Telescope, Shackleton's hut, Scott's hut, Cape Royds Adélie Penguin Rookery and the Ceremonial South Pole," it explained.
The new images enable you to immerse yourself into locations few people have seen before. Shackleton's Antarctic Hut is one of the best examples.
Despite spending more than a century in the Arctic, the hut is remarkably unscathed. The insides in particular are almost as they were a hundred years ago when Shackleton and his expedition used it as a home base for almost a year.
Google used a more portable version of its Street View equipment, essentially the same tools it uses for business interior photos, for obvious reasons like wanting to carry as little as possible.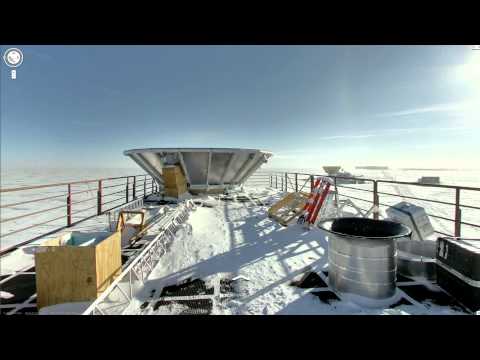 Play Video