The other day saw the release of the first ad for Chanel No. 5 with Brad Pitt, the first man to endorse the world's famous women's perfume. The second commercial brings more visuals and better context.
See it below.
Having seen the first one, you will instantly notice that the footage with Brad is the same as in the first clip. Also unchanged is the monolog.
What's new is footage of two mysterious women whose faces are not shown, one brunette and the other a blonde, both wearing Chanel trademark colors, black and gold.
The contrast is striking and, at the same time, completely efficient in delivering the message across. Either Chanel heard the complaints of all those who were saying the first ad was too "confusing" or this was the plan from the start.
This being Brad Pitt we're talking about, even though the endorsement deal is common fare, we do have some controversy as well.
The Daily Mail, for instance, points out that the second ad is taking a swipe at Brad's ex-wife Jennifer Aniston, currently engaged to be married to writer / actor Justin Theroux, with the inclusion of an Angelina Jolie lookalike and a Jennifer Aniston lookalike.
"He may well complain about media outlets refusing to let go of the non-existent love triangle between himself, his ex-wife and his fiancée... but Brad Pitt doesn't help himself. Especially, when he's promoting something," the Mail writes in a recent piece.
Believe it or not, but it's called "Shameless! Brad Pitt's Chanel No.5 advert shows images of an Angelina-esque brunette and a golden girl just like Jen... as he waffles about love and fate," and assumes that Brad has any say in the creative process for this ad.
"Now, in his ridiculously cheesy Chanel No.5 advert, we have an unusually po-faced and cheesy Pitt meditating (if you're being kind, he's waffling really) on love and fate over a sequence of artful shots of a vampy brunette and a beach loving blonde beauty," the tab writes.
There can be no doubt that the mysterious brunette is Jolie, while the beach loving blonde is Jen. As it happens, though, Brad doesn't choose either of them or, at least, not in his clip he doesn't.
While this publication chooses to read more into the ad than Chanel probably intended, others simply see a well-done commercial.
Check it out below and let us know which side you are on.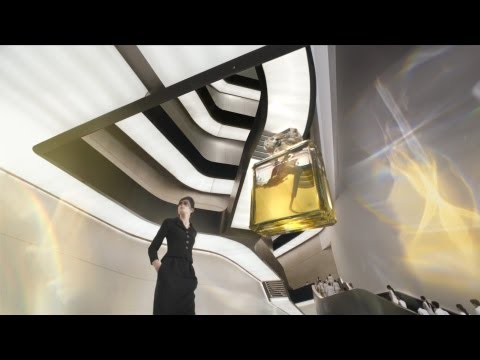 Play Video