Portal 2 on the PlayStation 3 will receive a special downloadable mission pack next week, called the In Motion DLC, which consists of several test chambers that have been specifically designed by developer Sixense to be used with the PlayStation Move motion control system.
Portal 2 delivered a great puzzler platforming experience back in 2011 when it came out for the PC, PS3, and Xbox 360 platforms.
Now, after more than a year since its original release, the game will receive a special bit of DLC from developer Sixense, in the form of the "In Motion" add-on, which brings several new test chambers that can be conquered only with the help of the PlayStation Move motion control system.
"Those who are familiar with Sixense know that over the past few years we have focused on delivering motion gaming experiences that are intuitive and natural for users. We are excited to now work with Sony and Valve to deliver content that takes advantage of the advanced motion tracking of the PlayStation Move," Sixense's Director of Product Marketing, Josh Bays, wrote on the PS blog.
"Portal 2 In Motion introduces gameplay mechanics, including scaling and rotation of objects as well as portal surfing. These new abilities are all required as the player progresses through an increasingly challenging set of test chambers that look familiar from Portal 2, but require new thinking to solve."
The new DLC will be available for purchase on the PS Store on November 6, for $9.99/€9.99.
What's more, alongside the add-on, Valve will release a digital download version of Portal 2 for those who've yet to try it out on the PS3. Both this downloadable version of the game, as well as the retail one will also receive a special patch that adds PlayStation Move support to the single-player and cooperative campaigns.
You can check out gameplay from Portal 2's In Motion DLC in the video below.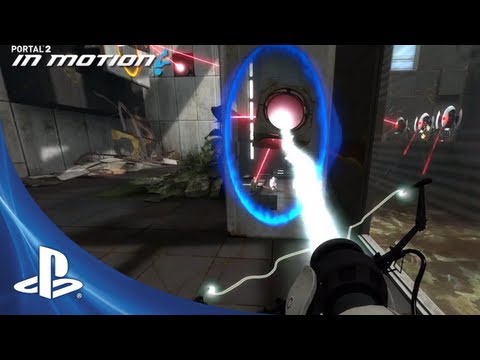 Play Video