Google is all about experimenting with new things and innovating (or buying up startups when it's convenient). This time around, the company has launched a brand new Chrome Experiment.
What does the brand new "Spell Up" do? Well, it helps everyone in the world learn how to speak English through a spelling game, just as the name suggests.
"As a student growing up in France, I was always looking for ways to improve my English, often with a heavy French-to-English dictionary in tow. Since then, technology has opened up a world of new educational opportunities, from simple searches to Google Translate (and our backpacks have gotten a lot lighter). But it can be hard to find time and the means to practice a new language," writes Xavier Barrade, now a creative lead at Google's Creative Labs in London.
So, he explains, when the Web Speech API made it possible for people to start speaking to their phones, tablets and computers and tell them what to do, Barrade says he got curious and that's how the idea of "Spell Up" came to be.
The word game is not a simple game or Chrome Experiment, but a way to help anyone improve their English by using their voices and a modern browser, namely Google's own Chrome. "It's like a virtual spelling bee, with a twist," Barrade sums it up.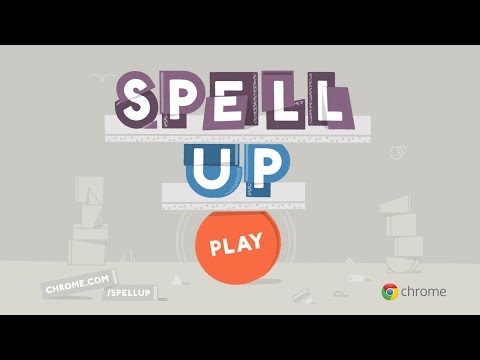 Play Video
"Spell Up" is fun to play around with if you're into this sort of games and if you want to improve your English skills, which can be pretty handy even if you're a native speaker.
"The goal of the game is to correctly spell the words you hear and stack them to build the highest word tower you can—letter by letter, word by word. The higher the tower gets, the more difficult the word challenges: You'll be asked to pronounce words correctly, solve word jumbles and guess mystery words. You can earn bonuses and coins to level up faster."
You can choose between British and American English, turn sound effects on or off or use a keyboard instead of your voice.
Try it out, have some fun, and let us know what score you got.