At this London movie theater, fans can experience an alternative way of enjoying movies. They can sit back, relax and enjoy a nice bath while soaking in their favorite flicks.
Clients can enjoy movies like Top Gun, Anchorman and Zoolander, while relaxing in hot water, Daily Mail reports. They can bring their friends, as the venue is fitted with 15 tubs, giving the rooftop more of a theater feel. Tickets to the show range between £25 ($40) and £200 ($320).
This artsy experience was brought to cinemagoers by entrepreneur Asher Charman. He came up with the idea for the Hot Tub Cinema seven years ago, while watching a movie in the hot tub, of course.
It's an intuitive concept, and one wonders why it was never put in place until now. Charman first tried out his business concept a year and a half ago, in Stoke Newington, UK.
"I already owned a projector for showing films - another passion of mine, and it didn't take long to realise I could enjoy both of these at once. We shared it with friends and they loved it too - so we felt compelled to keep going," Charman explains.
As the outdoor hot tub cinema experiment proved popular, the company starting renting out location to organize hot tub film night events.
"Hot Tub Cinema began privately about seven years ago. Since then it has grown in increments, reaching the stage of a handful of hot tubs in a garden in Stoke Newington about 18 months ago, at which point we realised it was time to find some new & exciting venues for our expanding endeavors," the blurb on the Hot Tub Cinema website reads.
A rooftop movie-watching session now takes place regularly on the Netil360 building rooftop, in East London. The view itself makes the experience worthwhile, the creator advertises.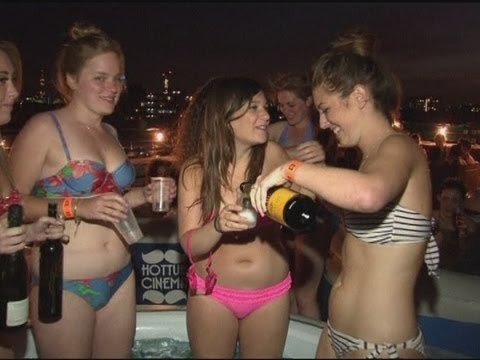 Play Video