The Oscars 2013 may be over but we're just getting warmed up talking about it. One of the hottest topics online right now is Renee Zellweger's apparently frozen face and her rather odd behavior during presenting duties.
Check out the two videos embedded in this blog post to see what prompted the latter.
As various voices online point out, while presenting Catherine Zeta-Jones, Queen Latifah and Richard Gere, Renee kept staring blankly at Richard and, at one point, lost her balance and fell into Queen Latifah.
She was teetering, which could probably be down to one glass of champagne too many on an empty stomach.
Then, there's the question of her face, which hardly moved when she spoke or smiled. Rumors of Renee's fondness for Botox have been around since for ever, but they were never as ripe as the other night, at the Oscars.
Check out the videos and let me know what you think in the comments section below.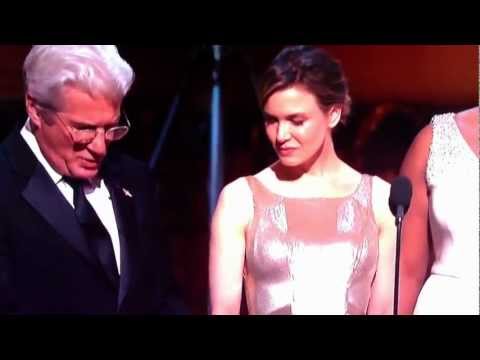 Play Video