After the big success experienced with Orcs Must Die, independent developer Robot Entertainment has now announced Orcs Must Die 2, a sequel that brings all sorts of new things, including the long awaited cooperative mode that was sorely lacking from the original.
Orcs Must Die impressed us here at Softpedia, becoming the runner up of our Best Downloadable Game category.
Now, after the success of the original, a sequel has been announced in the form of Orcs Must Die 2, coming from developer Robot Entertainment, which brings a feature that was eagerly anticipated by lots of fans: a cooperative mode.
"In 2011, we implored players to kill the orcs," the developer revealed. "As many as possible. Yet, only 3.4 billion orcs have been slaughtered to date. The only way we will get to a respectable orc death toll is by adding another killing machine and cooperative play. Bring a friend and destroy the orcs!"
Orcs Must Die 2 begins just a few days after the conclusion of the original, as the War Mage must partner with the mysterious Sorceress and defeat new legions of monsters, comprised of brand new enemies and the ones featured in the original.
Thankfully, you'll be able to use lots of classic traps, as well as some new contraptions and weapons to defeat these opponents.
Check out the biggest features in Orcs Must Die 2 below.
• New Campaign -- Orcs Must Die! 2 features a full campaign that you can play in single-player or with a friend in co-op. Choose to play the campaign as the War Mage, a headstrong hero who charges into danger, or play as the more nuanced Sorceress, a new hero who keeps enemies at bay with mind-control and magic.
• More Enemies -- An army of vile new creatures is set to pour through the rifts, and they've brought all of your favorite trap-fodder from the original Orcs Must Die! along with them!
• More Defenses -- Orcs Must Die! 2 has an enormous armory of new and classic defenses, including an all new assortment of magical trinkets. Use your new spellbook to buy defenses and upgrades the way you choose to, building up your arsenal based on how you play the game.
• New Upgrade System -- The skull system has been completely redesigned. You will always earn skulls for replaying levels, and the skulls can be spent on multiple persistent upgrades for each of your defenses.
What's more, owners of Orcs Must Die 1 will be able to unlock exclusive content in the upcoming sequel.
Orcs Must Die 2 will be released on the PC this summer. Until then, check out a few screenshots and an impressive video below.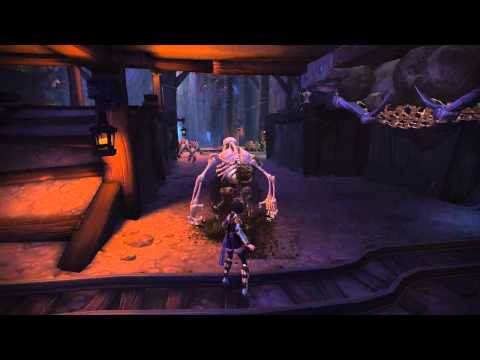 Play Video