Nokia Lumia 925 Review – A Worthy and Needed Facelift for the 920
The smartphone comes with Amber update pre-installed
Once Nokia's flagship smartphone, Lumia 920 was replaced after only several months. Although handset makers usually bring a new flagship device once per year, the Finnish company decided to release the Lumia 925 a mere six months after Lumia 920 hit shelves.
Aside from the obvious design differences between the two Windows Phone models, the Lumia 925 gets the same highly praised PureView technology for its camera, but along with some hardware modifications that make it slightly better.
Also, other small hardware improvements have been included, along with lots of software tweaks and enhancements, which will ultimately be available for Nokia Lumia 920 as well.
But the Lumia 925 won't be Nokia's flagship smartphone for long, as the Finnish company is already rolling out its Lumia 1020 model featuring an impressive 41-megapixel camera.
And things will be much more interesting once Nokia World 2013 kicks off later this month. The company's first phablet, Lumia 1520, will certainly be unveiled in late October, but other Windows Phone handsets are expected to make their entrance on the market by the end of the year.
Unfortunately, Lumia 925's reign over the Windows Phone kingdom was shorter than expected though I'm not sure if this is a good or bad thing.
It was officially introduced back in May and hit shelves in most regions only one month later. The smartphone is now available for purchase for around $550 (€405), but it can also be had for much less with new contracts.
Design
Nokia Lumia 925 is the result of Windows Phone users' feedback. Especially those who own or had previously owned the Lumia 920 had a lot to say about the phone's form factor (size, weight).
I assume Nokia took into consideration all feedback received and came up with the Lumia 925 several months after Lumia 920 had been launched on the market. The former has the same unibody form factor, but when it comes to size and weight, it's pretty much everything that a smartphone user would want.
It's sleeker and lighter than the Lumia 920, by a lot. I have already reviewed the Lumia 920 and the main reason I gave up carrying it with me after only 2 months was the fact that it felt like I was carrying a brick, and a heavy one.
Nokia Lumia 920 weighs no less than 185g (battery included), whereas the Lumia 925 has only 139g (battery included). This is one of the main reasons that I consider Lumia 925 a major upgrade over the Lumia 920.
Maybe it doesn't seem so sturdy as the Lumia 920, but the aluminum frame and thin polycarbonate back make me believe that users won't have any issues with the Lumia 925.
Nokia Lumia 925 features an aluminum frame, while the back side is made of a very thin polycarbonate that feels like rubber. That makes it lighter and more stylish in comparison with the previous Nokia flagship smartphone.
It measures 129 x 70.6mm and is only 8.5mm thick; that's 2.2mm thinner than the Lumia 920. The front side features a 4.5-inches display and the usual wide bezel at the base of the screen.
It looks like the wide bezel at the base of the display is a common trait for Nokia Lumia smartphones, which is probably the main reason that Lumia 920 and 925 have approximately the same width.
Although the numbers indicate that Lumia 920 is slightly bigger, that's because of the polycarbonate shell that covers the insides of the smartphone. Right at the bottom of the screen, there are three standard capacitive keys, which are found in all Windows Phone handsets: Back, Home and Search.
When it comes to form factor, the Lumia 925 has the same rectangular layout like most Nokia Windows Phone handsets, but it's a bit rounder on the edges than the Lumia 920.
The left side of the phone is buttonless, while the right side features the volume and lock/unlock key, as well as the dedicated camera shutter. The top side of Lumia 925 is pretty crowded as well, thanks to the microSIM slot, audio jack and microUSB ports.
The back side packs an 8-megapixel camera and a small dual-LED flash. Just like Lumia 920, Nokia Lumia 925 takes advantage of the PureView image technology. Right above the loudspeaker grille near the bottom of the back cover, there are three pins.
These three pins have been especially included by Nokia, so that users can attach a special back cover that allows them to wirelessly charge the smartphone. You can also use compatible chargers or other accessories for recharging.
Due to its unibody form factor, Nokia Lumia 925 doesn't feature a removable battery, so users won't be able to pull it out. It is also worth mentioning that it lacks a microSD slot for memory expansion.
Overall, the Lumia 925 is much easier to handle than its predecessor given the much lighter weight and rounder edges. The only downside that users with slightly smaller hands will definitely notice is the fact that Nokia Lumia 925 is a bit wider than other Windows Phone handsets, thus it may be a bit more difficult to handle at times.
Display and Camera
Another difference between Lumia 925 and its predecessor is the quality of the display. The Lumia 920 features an IPS LCD capacitive touchscreen display, whereas the Lumia 925 sports a much better AMOLED one. That means better image and less energy consumption.
The 4.5-inch AMOLED capacitive touchscreen display supports HD (768 x 1280 pixels) resolution and 332 ppi (pixel density). It has the same specifications as Lumia 920's display, which means that it features PureMotion HD+ ClearBlack technology and Corning Gorilla Glass 2 coating for protection against scratches.
Sunlight legibility is above average, so you won't have any issues reading what's displayed on the screen even under strong sunlight. Quality-wise, Lumia 925's display shows a high level of brightness and good color contrast.
Another improvement added by Nokia to the Lumia 925 in comparison with the previous model is the so-called Glance feature. With it, users will be able to check the time without having to wake up the phone.
A clock is now displayed on the screen when the phone is in standby mode. You will be able to set how long you want to remain on the screen or you can disable it completely. There's also the option to display the clock all the time and that will not drain the battery given the fact that the screen features AMOLED technology.
Another selling point of Nokia Lumia 925 should be the 8-megapixel rear-facing camera, which has been enhanced with PureView imaging technology. It can capture pictures with a maximum resolution of 3264 x 2448 pixels using the 4:3 ratio or 3552 x 2000 pixels when the camera is set for 16:9 ratio.
Nokia Lumia 925's camera has a few advantages over the Lumia 920's. It comes with 6 elements instead of only 5, which means that pictures have more details and are slightly sharper.
The smartphone also features Optical Image Stabilization and f/2.0 lens, which means that users get much better results when using the camera in low-light conditions. In addition, hand-shaking should be removed while capturing a video thanks the true OIS feature included.
The camera UI is pretty simple to navigate, but features extensive menus with lots of the settings and options. You can now set ISO to a maximum 3200 value and there's also an option that allows you to use the dual-LED flash as an AF assist light.
Switching from camera to video mode can be done with a simple click. The same goes for flash, which can be set to off/on/auto with a single tap on the screen.
Another interesting feature that comes with Lumia 925's camera is called Lenses and allows users to apply various effects on the pictures they take. These lenses act as third-party plugins and can be accessed within the camera interface once they are downloaded and installed on the phone.
Nokia Lumia 925 comes preloaded with Bing Vision, Nokia Smart Cam and Cinemagraph lens add-ons, but more can be downloaded for free.
Bing Vision is an image recognition lens, while Nokia Smart Cam is the improved version of Nokia Smart Shoot lens that was pre-loaded on Lumia 920. Smart Cam allows users to shoot bursts of 10 photos at 5-megapixel and edit them later.
Quality-wise, pictures look better than Lumia 920's with slightly more details and less noise. It's an improvement that can be easily detected with the naked eye, even for those who aren't into photos.
The same goes for videos, as the Lumia 925 can shoot 1080p clips at 30fps (frames per second). The only downside is that you can only record mono sound when shooting a video.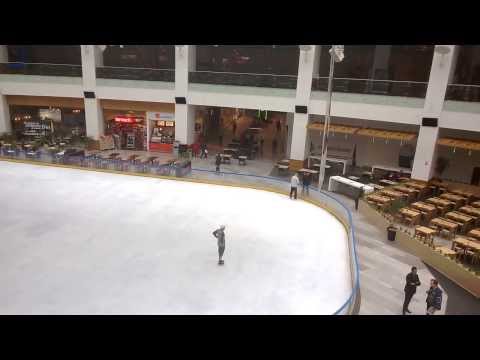 Play Video
Menu and Software
Unlike previous Windows Phone handsets, Nokia Lumia 925 comes with the Amber update pre-installed, which means more features, which in return translates into more value for what you pay.
The Amber update has added new features and various tweaks to the Lumia 925, but has not changed the overall look and feel of the UI. The Glance feature that we have mentioned earlier is one of these new additions, as well as the more important FM Radio support and new camera lens.
Aside from displaying the clock on the screen, users will now be able to wake up the phone by double tapping. This feature is power consuming, but it can be disabled at any time. I did not notice any surge in energy drainage while using this feature, so I guess it's not so power demanding. You can also set the Clock's brightness a bit dimmer between certain hours (night mode), usually when you're sleeping.
It's also worth mentioning that Nokia Lumia 925 comes with the Data Sense app pre-installed, something that Lumia 920 lacked. With Data Sense, users can see the amount of mobile data they have used at any given moment. Moreover, the application allows you to preset a data limit.
Windows Phone 8 UI has not changed at all since last year, so the Lumia 925 has nothing new to offer in comparison with Nokia Lumia 920. For a more in-depth look at Windows Phone 8 and all the features included, I strongly recommend those interested to read my Nokia Lumia 920 review.
Communication
Those who are wondering if there's anything missing from the Lumia 925 when it comes to connectivity will be happy to know that Nokia has stuffed everything in. There's not a single important communication feature that the Finnish company might have ruled out from Lumia 925's specs sheet.
It has GSM / GPRS / EDGE support, as well as LTE (cat 3) and HSDPA (42Mbps) connectivity. The smartphone also supports dual-band Wi-Fi with DLNA, Bluetooth 3.0 and Wi-Fi Direct.
I should also mention that Nokia has also added the missing OBEX protocol for the Bluetooth support, so users will now be able to transfer files with ease.
Near Field Communication (NFC) is another asset that comes in handy when you want to share files between compatible devices. It works flawlessly and is much more helpful than having to use Bluetooth connectivity.
Obviously, NFC requires users to touch their phones in order for the transfer to commence, while Bluetooth allows you to beam files at certain distances.
Internet Explorer is one of the best browsers embedded onto a mobile device and the one pre-installed on the Lumia 925 is no exception.
You get tabbed browsing, an interesting Share option and an extensive setting menu. It's worth mentioning that you can open as many tabs as you want, but the more you have opened, the slower the phone will become.
Nokia Lumia 925 comes with new versions of Drive+ and HERE Maps. They bring free voice-guided navigation to Lumia 925 users, along with global coverage.
All these are available for free without a time limit. With Drive+, users get to plan routes without having to connect to the Internet, as everything is done offline once the maps are downloaded on the phone.
Processor and Memory
Although Lumia 925 has received a facelift in comparison with Lumia 920, nothing has changed under the hood. The smartphone comes with the same Qualcomm MSM8960 Snapdragon chipset inside, which accommodates a dual-core processor clocked at 1.5 GHz, and Adreno 225 graphics processing unit and 1GB of RAM.
That's not necessarily a bad thing, as Windows Phone 8 has been perfectly optimized to run on this type of hardware configuration. That means you won't have any issues running any compatible application or game.
However, Nokia Lumia 925 does miss something and that's a microSD card slot for memory expansion. Even though the smartphone comes with 16GB of internal memory, that's not enough even for medium users. There's also a 32GB version available on the market, which is exclusive to Vodafone.
Multimedia
The Lumia 925 comes with the same Mix Radio service that's available on all Windows Phone handsets launched by Nokia. The service offers users free music streaming, along with the option to make some tracks available for offline listening. Keep in mind though that the mixes you save for offline listening change from time to time.
The basic music player that comes with the smartphone does not have an equalizer, but Nokia has added its own application that allows users to set several equalizer presets and Dolby Headphone enhancements.
The video player has been included in the Music hub as well and offers support for XviD, DivX and MP4 formats. As expected, it lacks subtitle support.
More importantly, Nokia Lumia 925 comes with FM Radio, something that's been missing from the previous flagship smartphone.
Quality-wise, Lumia 925's audio output is way above average, something that most Lumia high-end models are renown for. The headphones that come with the smartphone are of high quality, so there's no need to change them.
Battery
Nokia Lumia 925 comes with the same 2000 Li-Ion battery that is featured in the Lumia 920 as well. It's still non-removable and offers similar standby and talk time. According to Nokia, the Lumia 925's battery should last for up to 440 hours of standby time or up to 18 hours of talk time (13 hours in 3G mode).
We have managed to get around 2 days of medium use on a charge and we had like 30 minutes of phone calls, 30 minutes of Internet browsing and emailing and about 2 hours of music playback daily.
Those who are already used to charging their smartphone daily will be happy with the Lumia 925, otherwise we haven't noticed any improvement over other high-end smartphones available on the market, with few exceptions.
Sales Package
Nokia Lumia 925
USB cable
A/C adapter
Stereo earphones
SIM eject tool
Leaflets
CHECK OUT THE GALLERY
(79 Images)
---
The Good
There are so many good features stuffed inside the Lumia 925 that I'm afraid I'll overlook something. Aside from the fact that you won't feel that you're carrying a brick inside your pocket when you're on the move, Nokia Lumia 925 offers just about all the features that a smartphone user would want.

I would highlight the phone's full connectivity package (HSDPA and LTE cat 3), great 8-megapixel camera, stylish design, crystal clear display, decent processor and GPU, wireless charging and excellent audio output.

The phone's price is perhaps another selling point, as Android flagship smartphones are much more expensive than Windows Phone high-end devices, so this should be another positive aspect worth mentioning.
The Bad
The Lumia 925 still misses some critical features, such as microSD card slot for memory expansion and a dedicated file manager.

The lack of third-party apps could be another downside, but Windows Phone users have learned to live with that. Unfortunately, not many popular cross-platform applications work really well on the WP platform and the fact that the number of apps in the Windows Phone Store is way lower than that of its rivals hurts Microsoft's operating system in the longer term.

It's also hilarious, but Nokia Lumia 925 still doesn't feature a notification LED. I know some smartphone users don't bother with that, but for me, it's a mandatory function. Hopefully, the next major Windows Phone upgrade will add this feature as well.
Conclusion
Nokia Lumia 925 is a major improvement over Lumia 920, even if we take into consideration the phone's new design. Nokia Amber that adds FM Radio and several neat features make the Lumia 925 a better smartphone than the previous flagship handset. The Lumia 925 is the proof that Nokia has started to take into consideration users' feedback and learn from its mistakes. The fact that it was launched several months after Lumia 920 shows that the Finnish company really thought that the device provided a completely new smartphone experience to consumers, and from many points of view, it really does. Unlike the Lumia 920, Nokia Lumia 925 is easy to handle with one hand and you won't even feel it in your pocket. It has a better display, an enhanced camera and more features, so I don't see any reason not to upgrade from the Lumia 920, if Windows Phone is your favorite mobile platform.
Our Rating
Photo Gallery
(79 Images)
Hot right now · Latest news
5 Comments