It's still unclear if Apple indeed plans to roll out two distinct versions of the iPhone 6, but if that's true then the company may have a really big problem on its hands. And when we say big, we mean that literally.
Over the course of this week, several "big" iPhone 6 mockups have been leaked – in both videos and photos – showing one design particularity that doesn't sit well with us. In fact, pretty much everyone agrees that the 5.5-inch model appears ridiculously large.
The main culprit is not the display size. There are various devices out there that wear the same XXL tag and feel comfortable in one hand. But not Apple's 5.5-incher. The mockups show a ridiculously large bezel surrounding the display, especially at the top and bottom portions of the phone.
If this were the case, Apple would end up selling one of the biggest smartphones on the market, projecting somewhat of a desperate image after countless claims that the company's iPhones had very small screens. Sort of like an enhancement job. You know. That kind of enhancement.
Which is why we're probably looking at a fake. Apple may well be on track to release the 4.7-inch model with this particular design, but for the bigger version, some nip and tuck is definitely in order.
The alleged device is so tall it even trumps giants like the OnePlus One and the LG G3. In a video put together by Dom Esposito (macmixing), the unnatural size of the phone becomes evident when stacked together with the aforementioned devices, and even more so when compared to the tiny iPhone 5s.
Such a huge device would also force Apple to increase the price tag for an already expensive product.
So it's quite possible that these mockups are simply scaled up based on the original iPhone 6 schematics leaked earlier this year. Apple could very well be working on a completely different design that hasn't yet leaked out.
If you're wondering when you can expect the device to arrive, the answer is September – October, according to most company watchers. There have been rumors that Apple wants to release the small iPhone 6 before the big model, but those claims are unfounded.
The best bet is we'll see both get unveiled at a traditional iPhone-centric event in September, with shipping planned for later that month or early-October. Around the same time Apple is expected to refresh the iPad as well as introduce an updated MacBook Air with Retina display.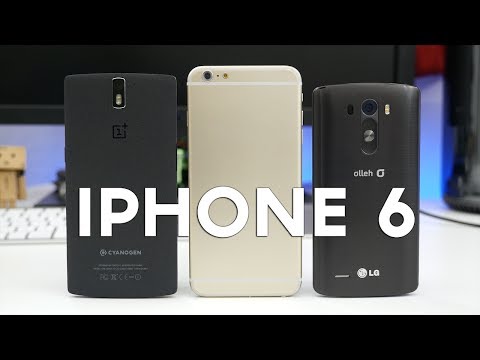 Play Video