Normally, breakthroughs come on their own, with thunderous applauds even, but Japan Display has decided to introduce two milestones at the same time, during FPD International 2012 (October 31 – November 2, Yokohama, Japan).
A certain screen from its collection has a so-called scattering layer on top of the LCD, which itself is not normal, but we will get to that later.
What the light-scattering layer does is collect light, to a certain extent, in the direction of the user's eyes. This makes the screen look like a sheet of paper, instead of a mirror.
The technology is described as better than digital e-paper screens, like the ones E Ink markets, by virtue of color levels alone.
According to Diginfo, Japan Display named the special addition to the LCD a Light Control Layer.
And now we get to the second special attribute of the liquid crystal display: the Memory in Pixels technology.
The name is quite self-explanatory, really. The display is designed with integrated electrical circuits that can retain signals.
"With a still picture, once the data has been written, it can be retained," said Japan Display's Kazunori Yamaguchi, "so power consumption is extremely low."
The power consumption of the screen, while maintaining a still image (photograph, book page, etc.) is of 3 mW. Knowing that most LCD monitors and laptops screens easily use one or several watts even in standby, with the occasional semi-watt model, this is significant.
In fact, the power draw is significant enough that this technology from Japan Display may be precisely what the e-reader market has been looking for: a power-efficient color screen.
There are two versions of the display: one with good brightness (40% reflection rate), but low color purity (5 percent of the NTSC color gamut), and one with better color purity (36 percent coverage of the NTSC color gamut), but lower brightness (28%).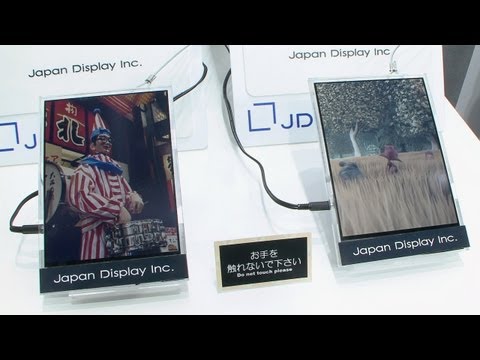 Play Video