Having multiple mobile devices at home might not always be a good thing, especially when you need to make them work together but have no software to help you do so.
However, a new solution coming from a group of researchers at the Tokyo University of Technology appears meant to change that.
Dubbed Pinch, the software comes in the form of a new interface that can connect the displays of multiple devices that are placed next to one another.
It is still under development but, as can be seen in the video embedded below, it promises great new capabilities to those who have more than one touch-enabled device at home.
When two mobile phones are placed next to one another and the user places a thumb and index finger on their screens and pinches, the two displays are linked up instantly, a post on diginfo.tv reads.
One can line up screens freely in multiple configurations, so as to have, say, the same photo displayed on all of them. Moreover, they can also match the photos on each screen, if they don't do so automatically.
"This Pinch interface we've developed is used to create applications that make devices react when they've both been pinched, so they work together. In the case of a graphics application, when the devices recognize they've been pinched, they can show the whole picture as if it's on one screen," the researchers explain.
"You could use Pinch to develop a variety of apps. For example, with a music app, if you connect devices horizontally, you could keep playing music for a long time."
Devices that have been linked together share each other's position and screen size using Wi-Fi connectivity, which makes it easy to connect a smartphone with a tablet PC, for example.
The interface can also be used to share content from a device to another in new, fun ways, with their friends and family, provided that they own only one of the supported devices.
"In the case of advertising, I think you could create applications where people put their devices together to talk about the products," the team at Tokyo University of Technology explains.
"We've presented Pinch at conferences, but we haven't shown it to the public yet. We'd like people to use this system to develop apps. So, we're offering Pinch to developers and are basically just asking them to do something with it. We've just started several projects like that."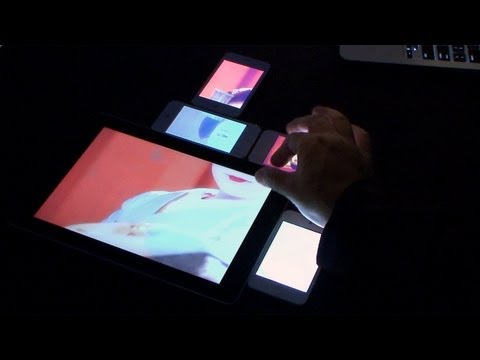 Play Video