During the Magic game against the Knicks hours ago, a member of the Orlando Magic stunt team, cheerleader Jamie Woode, was injured severely after falling head-first during a stunt routine. Video of the incident is below.
Woode was thrown high in the air and was supposed to land with her feet firmly planted on a fellow stunt man's shoulders. One of her feet missed the mark and she went down.
The first video embedded at the end of the article is of the actual accident, albeit of rather poor quality.
The second is of Woode being wheeled off the court, as the crowd and members of the two teams applaud for her as encouragement.
Yahoo! Sports notes that, though she seemed in considerable pain (she remained motionless for a while after the fall), she was in relative good spirits, even waving to the crowd twice to let them know that she was ok.
As the same time, it was obvious that she could move both her arms and her feet, which, as the second video below puts it, was incredibly good news.
"Woode, a former cheerleader at the University of Central Florida, was lifted onto a gurney. She then reached up with both arms and waved as fans applauded her," Yahoo! Sports reports.
"She was then rushed through the concourse and out onto the sidewalk across from a parking garage," writes the same media outlet.
Eyewitnesses reveal that, even before the fall, there was something "awkward" about the way the stunt was performed.
"Those who watched the fall said the stunt leading up to the incident didn't go exactly as planned and seemed awkward, yet it was followed immediately by another stunt that involved Woode being thrown high up into the air," Yahoo! writes.
"Woode's male stunt partner couldn't catch her and she fell. The arena filled with gasps and fell silent. Players from both the Magic and Knicks stood at their benches and looked on in worry," the same media outlet further reports.
As Woode was carried off by an ambulance, she was speaking and breathing on her own. Further details on her condition have not been released yet, but rest assured you'll learn about them here.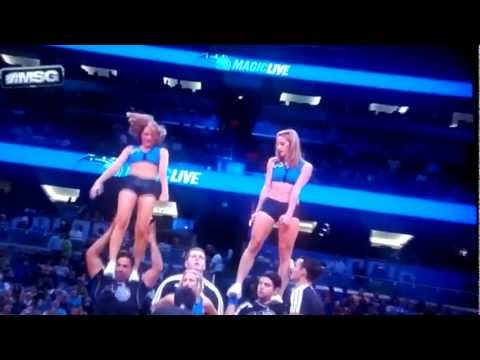 Play Video