Miss Venezuela Gabriela Isler was named Miss Universe 2013 in the ceremony held in Moscow, Russia over the weekend and her first huge gig was to model a gorgeous, white swimsuit estimated at $1 million (€746,436).
You can see it in the video below. Isler is now the face of a huge Italian lingerie company, and they got her to model the swimsuit as part of their new deal.
Not many details are known about the piece, but we imagine it's something like Victoria's Secret's fantasy bras: it's gorgeous, it's expensive and hard to make, but it's ultimately just for show. This particular item is encrusted with countless diamonds and rubies, so we presume taking it for a swim is totally out of the question.
Posing for representatives of the press with it, 25-year-old Gabriela said that she liked it because it was "just like" her.
"I feel very happy to share my first day as Miss Universe. I'm a simple girl. I am just come to have fun, to enjoy the moment – and here I am. It's very simple but very elegant, so it's like me," she said.
We'd never go as far as to describe a $1 million (€746,436) swimsuit as "simple," but we get where she' coming from.
As reported yesterday, Gabriela is a television personality and flamenco dancer in her home country. Her profile on the Miss Universe pageant webpage says that she considers motherhood the most difficult career for a woman, though she's yet to experience it firsthand.
"After finishing her thesis three years ago, Gabriela has regularly helped her sister take care of her daughter, and even considers herself a second mother to the child. Gabriela currently works as a talent on the Venevision TV Network, but considers motherhood the hardest profession in life. Above all else, she values being at home, surrounded by the people she loves," her profile reads in part.
Gabriela is the third Miss Venezuela to take home the Miss Universe crown in six consecutive years.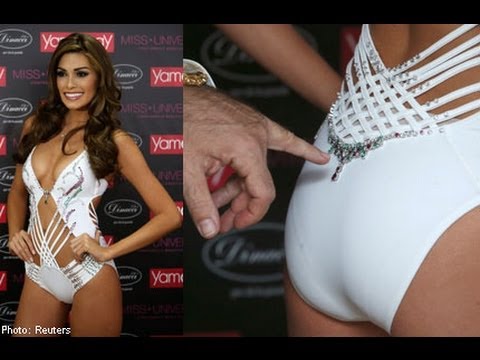 Play Video