Because the best moments in life are even better if captured on camera, Michael Lohan has agreed to be on a TV show the very instant he finds out whether teen Ashley Horn is his daughter. She is.
Video of the extremely awkward moment is below, embedded at the end of the article.
For some years now, Kristy Horn has been saying that she and Michael Lohan had a fling in 1995, back when he was still married to Lindsay's mother, Dina Lohan.
She's been claiming that a baby girl was born out of the fling. Lohan always denied the allegations, even refusing to pay child support on the grounds that the girl was not his.
On NBC's The Trisha Goddard Show, he finally learned that, indeed, Ashley was his daughter.
Goddard handed the teen an envelope with the results of the DNA test, as her mother instantly burst into tears.
They were positive, thus confirming what she's been saying for years about how Michael was the real father of the girl.
The second video below, a preview of the full show, sees Ashley confront her dad Michael about the nasty things she's been saying about her and her mother in the press.
"What gives you the right to tell me that the kids have a right to disown me. What made you say that to me? How can you keep lying?" she asks him.
She also says that, even if the DNA test confirms she's Lohan's daughter, she does not want to be part of the family – or, as she calls it, the "Lohan trainwreck."
For those keeping track, besides Ashley and the children she has with Dina, Michael is also expecting a child with on and off girlfriend Kate Major.
Check out the extremely awkward TV moment in the videos below.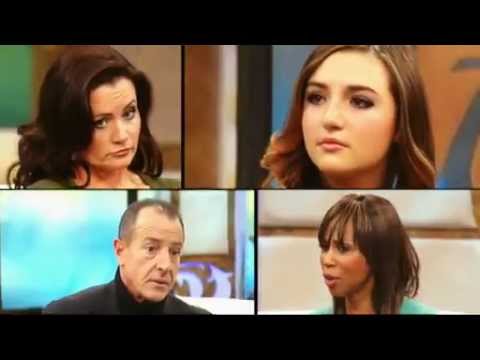 Play Video