Matt Bomer, the handsome leading man from "White Collar," has just confirmed gay rumors during an acceptance speech at an awards ceremony. You can see video of it below.
In all fairness, Matt has never denied the rumors, but he always managed to dodge questions about his orientation, which created the impression that he was saying he was straight.
The other night in California, while accepting the New Generation Arts and Activism Award at the Steve Chase Humanitarian Awards, Matt thanked his partner, publicist Simon Halls.
Honored for his work in raising awareness for AIDS / HIV, Matt began his speech by talking of the importance of such work and how rewarding it is at the end of the day.
He concluded his speech with his coming out statement, worded very beautifully: he thanked his family, Simon and their three children.
"I'd really especially like to thank my beautiful family: Simon, Kit, Walker, Henry," Matt said.
The twins Walker and Henry, aged 3, are believed to be Simon's from a previous relationship, while Kit (5) is Matt's from another relationship.
Because the actor never speaks of his family, all fans have to go on is rumors and speculation.
"Thank you for teaching me what unconditional love is. You will always be my proudest accomplishment," the actor further said in the same acceptance speech.
And, with that, it was done, he had come out.
As noted above, rumors about Bomer's orientation have been around ever since he developed an international following on "Blue Collar."
Nevertheless, every time he was asked a direct question on the topic, he would always refrain from answering it.
"I don't care about [rumors] at all. I'm completely happy and fulfilled in my personal life," he told Details magazine in an interview last year.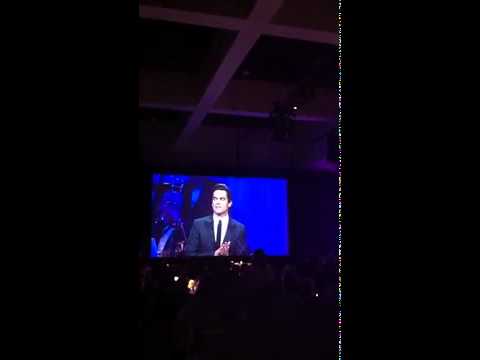 Play Video