The Long Island Expressway, east of New York City, has been shut down following a massive pile-up on Wednesday night.
The highway was blocked between exits 65 and 69, X1Law writes. So far, one death has been reported, while at least 33 more people have been injured in the crash.
At around 2:40 p.m., it is believed a tractor-trailer crashed and caught fire near Exit 68 in Shirley. A 68-year-old woman from Blue Point, who has not been identified as of yet, was pronounced dead after crashing her Toyota Camry.
"We had a jack-knifed tractor-trailer, numerous victims that were scattered all over," Ridge Volunteer Fire Chief John Mirando says, according to a report by CBS New York.
The truck was driven by 42-year-old Raymond Simoneau, of Rockingham, Vermont. He caused the 35-car pile-up, reports say. Some of the other vehicles burnt down in the accident, injuring several people.
"When you stop suddenly and the car comes to a halt, it tends to cause injuries," Denise Gluck of the Peconic Bay Medical Center explains.
As you can see in this unedited clip posted below, dozens of vehicles are stopped in their tracks as firemen try to put out the flames.
"The gentleman to the right of me went down to the ground and was praying. When I looked in my rear view mirror, there was smoke and flames coming out.
"Pretty soon, the whole front of the truck was engulfed in fire, and that's when people started backing away. The police came and asked everybody to run and get out of the way, because I guess they thought it would explode," eye-witness Danny Gershonowitz recalls.
Just yesterday, we reported about a 60-car pile-up in Southern California, which left motorists stranded in the Yreka area. Fortunately, no casualties were registered.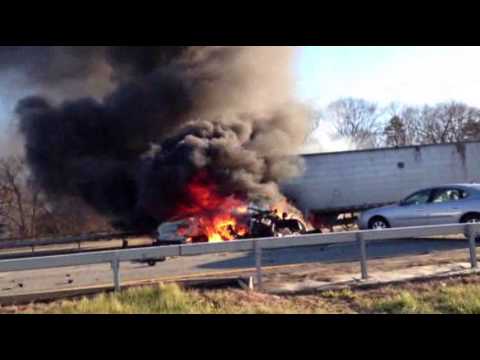 Play Video