Wayne Houchin made a name for himself as a very good magician, but there was nothing magic or, for that matter, fake about the video below. His head was set on fire on live TV during a stunt of very poor taste from a reporter in the Dominican Republic.
The video below is a complete report from ABC News.
Houchin had taken part in a demonstration in the program, called "Approach the Stars," when the host, Franklin Barazarte, approached him to tell him he wanted to sign off with a shot of him giving Houchin a very special type of "blessing."
He was actually thinking of a prank but he obviously did not consider all its implications, a rep for the magician confirms for the aforementioned media outlet.
Barazarte poured a very flammable type of cologne on Houchin's head and then set it on fire. At first, the magician was so dazed by what was happening that he didn't even know how to react.
He is now recovering in the hospital with severe burns on his scalp, face and hands. ABC describes the incident as a "brush with death."
"This was not a stunt or part of an act. This was a criminal attack," Houchin says from the hospital bed.
"The doctors here are cautiously optimistic that I will heal with no scars on my face. Each day I look and feel better. My hand, however, is in a lot of pain and isn't healing as well as my face," he adds.
Police have issued an arrest warrant in Barazarte's name, though not even Houchin can provide an explanation for how the cologne took fire.
Not even the video played at a slower rate is able to offer an indication about that.
According to reports in the press, the incident did not air on TV because the producers cut off before it happened.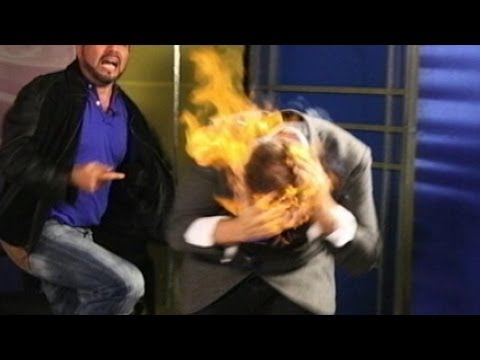 Play Video