After predicting that the Baltimore Ravens will beat the San Francisco 49ers 27 to 24, in order to win Super Bowl XLVII, the team in charge of Madden NFL at EA Sports is ready to give players an actual play prediction for the game.
The video game simulation, compiled using the core game engine and a set of special data, says that the first quarter will be a pretty drab affair, during which both teams will focus on their defensive records in order to keep the other one from scoring.
EA Sports says, "But any illusions of a low-scoring affair were shattered in the second quarter when the 49ers' Frank Gore scored on a 19-yard run and Joe Flacco quickly answered with an 18-yard touchdown pass to Torrey Smith. Later in the quarter, Baltimore added a Ray Rice touchdown run to secure a 17 -10 halftime lead."
During the third quarter, Joe Flacco will manage to find Anquan Boldin open in order to give the Baltimore Ravens a lead of 14 points.
Frank Gore is the man to bring the San Francisco team back into the game with an early touch down during the fourth quarter.
EA Sports adds, "Baltimore wasn't about to let the 49ers spoil Ray Lewis' retirement party though, methodically moving the ball down the field on the back of Ray Rice and capping the drive with a 40-yard field goal from rookie kicker Justin Tucker to push the Ravens ahead 27-24."
A final offensive effort from the 49ers will feature Colin Kaepernick, but an interception from Ed Reed will secure the Lombardy Trophy for the Baltimore Ravens.
Joe Flacco, the quarterback of the winning team, will be the Most Valuable Player of Super Bowl XLVII, according to EA Sports.
The company has just announced that the new title in the Madden NFL series will be launched in the middle of August.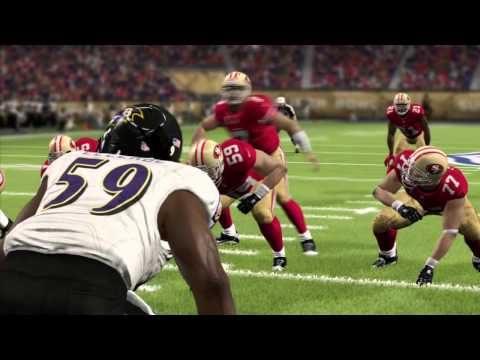 Play Video