Tech support scams that target Windows users are not uncommon. However, experts warn that scammers have also started targeting Mac users.
Malwarebytes researchers have come across the website of a company called Speak Support that claims to offer technical support for Mac computers.
The firm, which employs an "elite band of tech support experts" is allegedly based in the United States. However, website registration records show that they're actually located in New Delhi, India.
Malwarebytes experts have decided to give them a call to see what services they really offer.
First, the tech support scammers ask the user to install TeamViewer to allow them to remotely connect to the computer. Once he gained access to the device, the so-called technician launched a terminal window and pinged a website called protection.com.
He allegedly did it to check if antivirus protection was installed on the Mac computer.
The ping results in a request timeout, possibly because the administrators of protection.com have disallowed such requests to protect the website against denial of service attacks.
It's worth noting that protection.com is owned by Life Alert, a personal emergency response and home medical alert system company. Life Alert says it doesn't have anything to do with Speak Support.
Of course, pinging a random website doesn't have anything to do with antivirus protection. However, most of the people who would contact such a tech support service probably don't know that and they might really believe that there's something wrong with their Mac.
As far as payment is concerned, technical support costs $1 (€0.74) per "item." However, the quantity in the billing window is set to 200.
Malwarebytes has confronted the scammers regarding their practices. The crooks came up with all sorts of stories about why they used the ping command to check for antiviruses.
The security firm has published a special help and resource page to teach users everything there is to know about tech support scams.
Check out a video recorded by Malwarebytes during the "tech support" session with the scammers: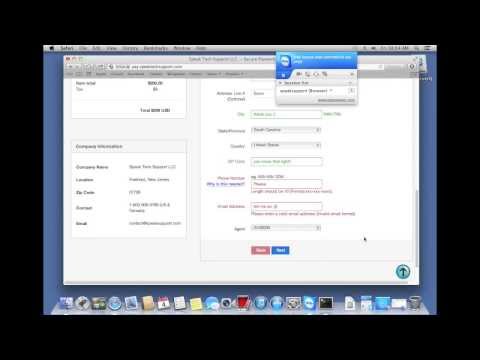 Play Video