The development team at Sony working on the upcoming MLB 13 The Show is giving fans of the baseball simulation a chance to take a look at the changes introduced to the Diamond Dynasty game mode, which allows players to assemble their ultimate team and play against friends.
The team has looked at feedback from fans, derived from previous installments of MLB, and has added more important information to the cards for Diamond Dynasty in order to give players a way to plan ahead.
Nick Livingston, a game designer working on MLB 13 The Show, tells the PlayStation Blog that, "Be aware that each Dynasty Player has maximum thresholds that he can reach in each attribute, so picking which cards you want to activate to your team has become much more important. We really want to drive the point home that cards now distinguish between Starting Pitchers, Relievers, and Closers."
MLB 13 The Show Diamond Dynasty also introduces support for partial games, by making sure that all game systems are linked to innings rather than to the entire match.
A new Mercy Rule has also been implemented in order to make sure that even players who are getting beaten stay in the game and cherish the baseball experience.
Livingston adds, "Now you just need to grin and bear it for a little while, and mercy will be had."
Other changes include introduction of the Designated Hitter, a choice between league rules and new options for the Logo Editor that players use to change the look of their team.
MLB 13 The Show also uses an improved simulation engine and gives players more options linked to their favorite teams.
MLB 13 The Show is set to arrive on March 5 on both PlayStation 3 home console and the Vita handheld, allowing gamers to use both the Cross Save and the Cross Play features.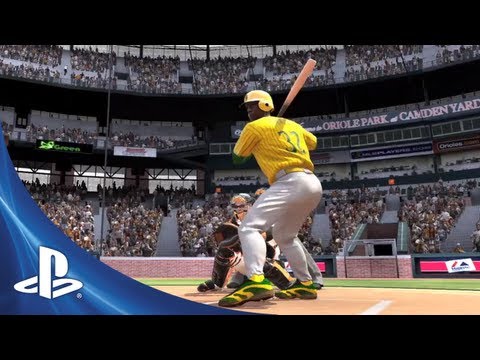 Play Video