So far, Kristen Stewart has managed to dodge questions about her personal life while doing promo work for the upcoming – and final – installment in the "Twilight" franchise, "Breaking Dawn Part 2." This changed earlier today, on The Today Show.
Somehow, her people managed to "ban" all questions pertaining to her personal life. If they did, this memo didn't reach the guys on The Today Show, because that's precisely what they asked her.
Check out the first video below for Kristen's reaction.
"Fans follow your life and they want to know, are you back together with Robert Pattinson?" co-host Savannah Guthrie asked Stewart.
"Funny you mention that," the actress immediately answered, visibly not comfortable with the question.
Still, she tried to offer an answer, though it wasn't the one fans were probably expecting.
"I'm just going to let people watch whatever little movie they think our lives are and go for it. Keep them guessing, I always say," Stewart added.
The second video (of rather low quality, unfortunately) below is of the entire interview, which makes it clear that Stewart only wanted to talk about the film and not about ongoing reports and speculation on her love life.
"The Twilight Saga: Breaking Dawn Part 2" is the final installment in the franchise, based on the second half of Stephenie Meyer's original novel.
It sees our favorite vampires, Bella (Stewart), Edward (Robert Pattinson) and their daughter Renesmee (Mackenzie Foy), together with the entire Cullen clan and other vampire covenants, rally to face the Volturi, who are coming to kill Renesmee, whom they consider an abomination.
It will be, Summit Entertainment promises, a confrontation worthy of such a successful franchise, an epic finale for an epic movie phenomenon.
"Breaking Dawn Part 2" will be out on November 16.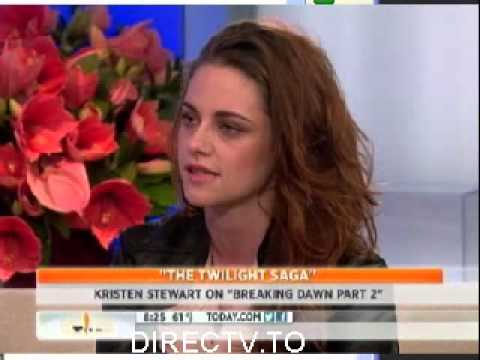 Play Video