Knack, the action platformer that's just been revealed for the PlayStation 4 has received an actual gameplay video as well as quite a few details about its mechanics.
Sony kicked off its PlayStation 4 reveal conference with a rather surprising game, in the form of Knack, an action platformer coming from its Japan studio, masterminded by Mark Cerny, the leading force behind classic franchises like Crash bandicoot, Jak and Daxter, or Ratchet & Clank.
Now, in order to clear things up about the new game, Cerny wrote a comprehensive post on the PS blog, revealing just how Knack will take advantage of the PlayStation 4's impressive hardware and capabilities.
"With our new project, Knack, we are really trying to take advantage of everything that the PlayStation 4 supports, from the graphics capabilities of the platform to the physics simulation necessary to handle our very unique hero," he said.
Cerny is the leader of Sony's Japan studio and, over the years, has worked on a variety of action platformers, including Crash Bandicoot, Ratchet & Clank or Jak and Daxter.
"The Doctor (a not-so-mad scientist) studied ancient relics from a long lost civilization for many years, and finally found a way to bind them together and give them consciousness. The result is Knack, a creature with mysterious powers – for one, he can incorporate more relics into his body as he finds them, which allows him to transform from a three-foot tall creature into a gigantic wrecking machine."
According to the designer, Knack will offer players a variety of gameplay mechanics, binding plenty of already impressive systems, like the Crash Bandicoot platforming or the Katamari growth of the hero.
"During the game Knack also discovers that he has a skill (in other words, a knack!) that allows him to incorporate ice, metal and other substances into his body, giving him new abilities from level to level."
"The result is gameplay which is a little bit like Crash Bandicoot, and a little bit like Katamari Damacy, in that the Knack can get quite large indeed. There's also a touch of God of War in there, in that there is an epic feel to the game in places."
Check out the actual gameplay vide of Knack below and look forward to its release on the PlayStation 4 soon enough.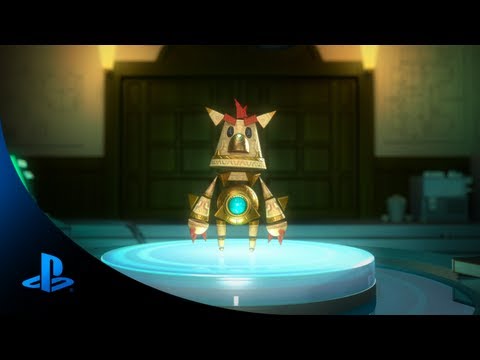 Play Video