Killzone: Mercenary, the upcoming PS Vita exclusive game from Sony and Guerrilla Games has just received a lot of new details, alongside a special gameplay video, and even a release date of September 17.
Sony is trying to breathe fresh life into its PlayStation Vita and is preparing to release quite a few exclusive games made by its internal studios.
Among them is Killzone: Mercenary, a new shooter set in the long-running franchise made by Guerrilla Games.
PS Vita owners first got to see the game last summer at Gamescom 2012 and now Sony has decided to share quite a lot of details, while revealing a video, and even a release date.
First up, the company posted a short description of the single-player campaign via PS blog, that's set to include different moments from Killzone 2 and 3.
"Starting just after the ending of the original Killzone, and revisiting many of the events from the Killzone trilogy, the game puts players in the rugged combat boots of a mercenary named Arran Danner. Danner is a former UCA-soldier who has no qualms about taking on paid contracts from the ISA as well as the Helghast."
"When a seemingly routine mission to evacuate the Vektan Ambassador and his family in Pyrrhus goes awry, Danner discovers that the outcome of the war could very well depend on the fate of the Ambassador's young son. With both sides going through increasingly desperate lengths to get hold of the boy, he begins to wonder whether the price of victory is really worth the paycheck."
According to Sony, Killzone: Mercenary has nine single-player missions that should each take 1 hour to complete. Additional replay challenges are also included, as is a multiplayer mode with six maps and three different game types, including Warzone.
Rewards are given out for all sorts of actions in the game across its different modes, which can then be used to get better gear or weapons.
What's more, the game also takes advantage of the PS Vita's impressive hardware to deliver a high-quality experience.
"Killzone: Mercenary makes full use of the PlayStation Vita's considerable input and graphics capabilities. It enhances the familiar dual-stick FPS control scheme with touch controls for actions such as brutal melee, and with tilt controls for accurate sniper aiming. The game even uses the powerful Killzone 3 engine to bring its massive environments and impressive set pieces to life."
The game is set to appear on September 17 exclusively for the Vita. Until then, check out the impressive video with Killzone: Mercenary below.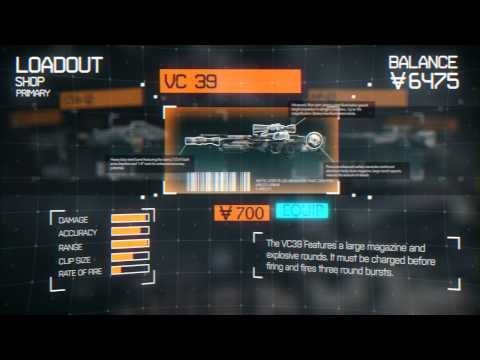 Play Video