They met for the first time in February this year but theirs was anything but love at first sight: real life Ken Doll Justin Jedlica and real life Barbie Valeria Lukyanova hated each other. They still do, with Jedlica now out to prove that even Ken can be as much Barbie as Valeria is.
The story of these two "human dolls," perhaps the most famous in the world, is as shocking as it's captivating: whereas Valeria claims to have achieved her otherworldly looks through just one surgical intervention on her breasts, lots of sweat at the gym and makeup, Jedlica is a walking plastic surgery advertisement.
He's had over 120 procedures done since he was just a teen, amounting to a grand total of $150,000 (€111,193). He believes Valeria has no right in calling herself a "human doll" since "drag queens have put on the same illusions with makeup and costumes for years."
To prove his point, he dressed up like Barbie to show that even Ken can be Barbie with professional makeup and hairstyling done. Photos are included in the video below but, do be warned, what has been seen cannot be unseen.
"Valeria presents herself as a real-life Barbie doll, but she is nothing more than an illusion who dresses like a drag queen. Unlike me, who has spent nearly $150,000 permanently transforming myself into a human Ken doll, Valeria just plays dress up," Jedlica says.
"But as soon as you wipe away all that makeup she's just a plain Jane and there's absolutely nothing special about her. Valeria has been my arch nemesis ever since we met each other earlier this year, and by dressing up like her twin I wanted to prove that anyone can look like Barbie, even Ken!" he continues.
He believes that he even makes a "prettier" Barbie than Barbie herself, aka Valeria but, clearly, that's highly debatable.
In his most recent interview, Jedlica, who now works as a plastic surgery counselor, said that he wasn't even close to done with the transformations. A list of the things he has had done would include his face (cheeks, nose, lips, eyes), his pecs, his arms, and his thighs.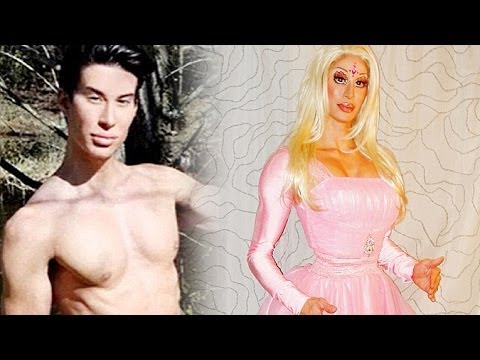 Play Video