Psy's Gangnam Style is an international phenomenon. We know this because it spawned countless memes and the views counter on YouTube continues to go up.
Despite getting bigger and bigger, the bubble hasn't burst yet, so the Infinite Gangnam Style hack put together by the people at Echo Nest comes at the nick of time.
Echo Nest's Paul Lamere, the hack's creator, has several of these under his belt already, but this is the first one that uses video as well.
"This weekend at Music Hack Day Reykjavik I built a music hack called Infinite Gangnam Style. This hack takes the viral hit by Psy and creates a never ending, ever changing version of the song," he explained.
Like the name suggests, Infinite Gangnam Style lets you play the song and the video forever.
But, unlike the 10-hour YouTube edits or just putting the video on repeat forever, this hack actually mixes and matches the song and the video seamlessly into an endless but not repeating loop.
That's the beauty of pop songs, especially electronic ones, you can shuffle around the various parts and it will sound pretty much the same.
But if you don't want the app to randomly jump from one section to the other, you can get involved and become a desktop DJ by selecting any beat in the song to play at any given time.
"The app works by taking the audio and analyzing it with The Echo Nest analyzer to break it up into its individual beats," Lamere explained.
"Next, an analysis pass is run on all the beats finding each beat's nearest similar sounding neighbors that fall within a similarity threshold," he said.
"Then, the song is played beat-by-beat – but with the added twist that any time we play a particular beat there's a chance that we will transition instead to one of the beat's similar sounding neighbors," he added.
"For a pop song like Gangnam Style there's lots of repetition so there's plenty of good transition points. The result is that we can loop through the song forever with the song always morphing," he concluded.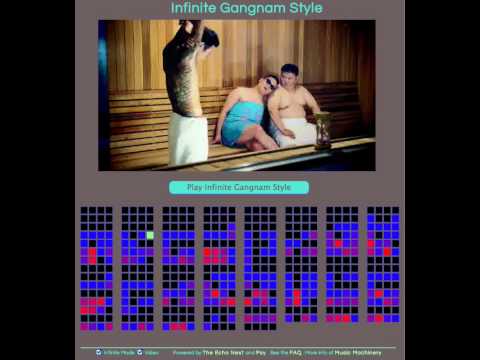 Play Video