Common sense would have it that two people with extensive plastic surgery would have a lot to talk about and, thus, more chances of getting along. Not the same goes for two of the world's most famous "human dolls," Valeria Lukyanova and Justin Jedlica.
In case you have not heard of them yet, the photo attached to this article will fill in all the gaps for you as to how they've earned this nickname of "human dolls."
The two recently hooked up in New York City for a(n aptly chosen) Barbie and Ken-themed photoshoot and, as The Sun puts it, they nearly scratched their eyes out fighting.
One of the reasons they could not get along was, it seems, Justin's obvious love for plastic surgery. As we also noted some time back, Valeria insists she's 100% natural, except for the breasts, which she admits to having had enlarged.
For the record though, at the time, she was saying she had zero surgery; that is, she wasn't owning up to breast enlargement back then.
Either way, Justin doesn't really like her and he's not afraid to tell her to her face.
"Much of her look is added make-up, fake hair and slimming corsets. Drag queens have put on the same illusions for years," Justin is quoted as saying.
Obviously, this displeased the Human Barbie a lot.
"Justin said bad things about me but he had more than 90 operations, while I had only one. I am not hiding that I've had plastic surgery. I had breast implants because I want to be perfect," she fought back.
"He would do better not to comment on who is plastic and who is not. I think he is handsome man — but he overdid his lips," Valeria said.
Below is a video of Justin on Dr. Drew, in which he explains how his plastic surgeries are actually a form of "art" because they allow him to be "creative" and, with the help of plastic surgeon, create something new out of his old self.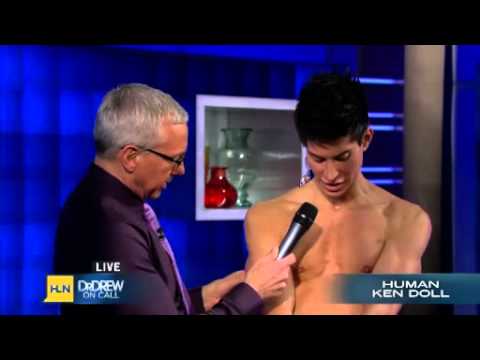 Play Video