Nowadays, when we talk about technology, we usually refer to things that use electricity, but occasionally something will happen that will remind us that electrical energy isn't always necessary for something to be qualified as high tech.
The Breva Genie 01 mechanical watch is the item challenging that particular idea at the moment, of which only 110 have been made.
There is a very simple reason why no more than 110 have been or are likely to be made: the item is very, very expensive. More expensive than two cars combined.
The exact sum is $150,000, or 115,900 Euro according to exchange rates as they are today.
Why would it be so pricey, one might ask. After all, sensor-packed wrist watches that can point at the magnetic north (act as a compass), measure barometric pressure and even sense the temperature, sell for $200 / 154 Euro.
The answer to that dilemma is that the Breva Genie is a completely mechanical time piece, made out of 405 components.
Each of those components is made by hand, making the genie a literal work of art.
The barometric pressure is determined by a small chamber that expands or contracts when said pressure changes.
The time, altitude, remaining power in the mainspring, and the weather forecasting barometer are all shown by "a plethora of easy-to-read indications." The mainspring should be good for around 65 hours.
For those who want specifics, hours and minutes are displayed on a semi-transparent smoky-sapphire sub dial at 8 o'clock, while small seconds are shown below 12 o'clock.
As for the scale, it arcs around the top perimeter of the dial, while a second semi-transparent smoky-sapphire sub dial at 2 o'clock reveals the barometric pressure.
"At 6 o'clock, an anaerobic capsule measuring air pressure dominates the lower section, with another identical anaerobic capsule underneath it to maximize sensitivity to the slightest change in air pressure," the company explains on the product page.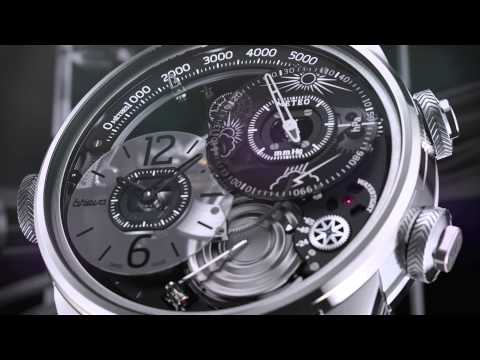 Play Video