Google Maps has always had a strong photo component. The map of a place is great for getting your bearings and Street View may be useful for checking out the interesting places, but it's user photos that provide the best experience if you really want to enjoy a famous landmark or location.
Thankfully, by definition, landmarks are very popular with tourists and there are plenty of photos of them, many on Google Panoramio or Picasa.
Google Maps has long had the ability to display geo-tagged photos from Panoramio, Picasa or even Flickr. Google has also had the technology to determine whether a photo is of a famous landmark, via image recognition algorithms.
Now though it's going one step further with photo tours a feature which takes the best photos of a famous location available in Maps and stitches them together to create a spectacular 3D slideshow.
The end result is quite impressive especially when you consider that most of the process is automatic. It's best to first check out one of the tours, there are more than 15,000 of them already for plenty of famous locations, before trying to understand the technology behind them.
"Photo tours are available for more than 15,000 popular sites around the world, from famous landmarks such as St. Mark's Basilica in Italy to scenic treasures like Half Dome in Yosemite," Google explained.
"They can be initiated from Google Maps in two ways. First, when you search for a place, such as Trevi Fountain, the results in the left panel will indicate if there is a photo tour available: click either the thumbnail image or the link to start the tour," it added.
"Alternatively, if you're browsing the map and click on the label for a particular landmark, the info window that appears will indicate if a photo tour is available," it said.
Google uses a number of interesting technologies for the tours. For one, photos that are similar and from the same location are grouped together based on how much they overlap.
Using the photos alone, which are obviously 2D, Maps determines the 3D shape of the object in the photos and then places each photo in its precise location and orientation based on the 3D shape.
It's all a matter then of picking the path through the photos. The 3D effects and morphing between the photos is done by the browser and Maps uses WebGL for this so you have to have MapsGL enabled to get the feature.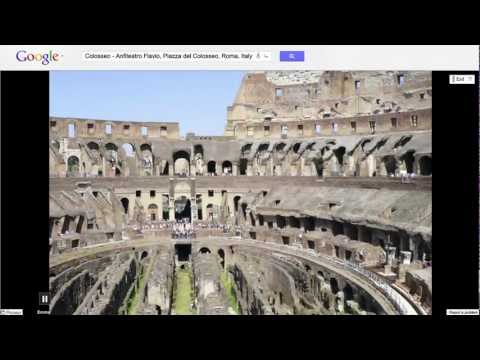 Play Video