Fujitsu isn't that big of a name in the mobile space, but the Japanese company is looking to change that in the near future with the introduction of a new tablet, called the Stylistic m532, rocking Nvidia's Tegra 3 quad-core chipset.
Ignoring the high-res screen trend imposed by Acer's Iconia Tab A700 and the Asus Transformer Infinity, the m532 is built around a 10.1-inch screen capable of pushing a "mere" 1280x800 pixels.
Pop the display out and inside you will find Nvidia's Tegra 3 SoC placed alongside 32GB of Flash storage, which should be enough for many users.
If this however doesn't satisfy your needs, you can also expand the storage space available by installing a microSD card.
The slot required by this sort of cards is placed on the side of the tablet, right near a SIM card slot, a mini-HDMI output and a micro-USB port, the latter being used for charging and/or connecting the tablet to a computer.
An interesting addition is the presence of a bottom dock connector, but so far we don't know if the Stylistic m532 will use a regular charging dock or something along the lines of the optional keyboard/docking station available for the Asus Transformer Prime.
Fujitsu's Stylistic m532 also includes two cameras, one front webcam sporting a 2MP resolution and a rear 8MP snapper with flash.
From the video provided by Notebook Italia, one gets to see that the m532 sports quite a thin profile, while the back uses a nice black matte finish with a rubber feel to it.
Fujitsu's tablet is expected to arrive in May this year, featuring a €549 (around $720) price tag. The Stylistic m532 slate runs the Android 4.0, aka Ice Cream Sandwich, operating system.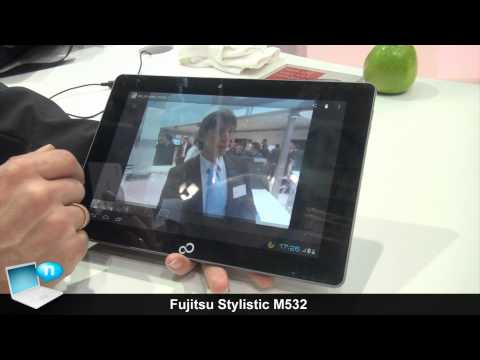 Play Video